Good morning, Tampa Bay. Here's what you need to know today.
Your Weather Planner
It's a hotter day as temperatures climb into the mid 90s. The humidity is also on the rise and it will bring the heat index up to the 100s this afternoon.
A heat advisory is in effect for Citrus County and Hernando County from noon to 7 p.m. The heat index will be 105 to 112.
Be sure to stay hydrated if you work outside and take breaks in air conditioning if you can.
Isolated showers and thunderstorms will develop during the afternoon.
Storm chances will increase Friday through the weekend.



Highs: Mid 90s

Lows: 70s

Rain Coverage: 20%
Check your hour-by-hour forecast here | Share your weather photos

Around Tampa Bay
1. Kadri's OT goal lifts Avalanche overLightning 3-2 in Game 4
Without specifically saying Colorado had too many men on the ice for the winning goal, Lightning coach Jon Cooper suggested it shouldn't have counted.
2. Tampa nonprofit offers whole-health healing to veterans
The month of June is veteran suicide and PTSD Awareness Month. According to the National institutes of Health and the most recent data from the VA's National Suicide Prevention report, as many as 500,000 U.S. Troops that served over the past 13 years have been diagnosed with PTSD and 6,200 veterans take their own lives each year.
3. Beekeeper's unique business idea doubles his honey production
Bay area beekeeper Alwyn "Oxx" Simenia turned his love of honey into a lucrative business, Oxx Beekeeping. "80% of our fruits and vegetables are pollinated by honeybees, trees and nuts," said Oxx.
4. Fried doesn't commit to permanent closure of Orlando FreeFall drop tower
The Orlando SlingShot Group's rides at ICON Park have been closed since a deadly accident in March, but Florida Agriculture Commissioner Nikki Fried on Wednesday avoided addressing whether the rides will stay closed forever.
5. Tampa police hosting gun buyback this weekend
Tampa Police Department is hosting a gun buyback program with hopes of taking guns off the street that could potentially be used in crimes.
---
Around the Nation
1. Biden calls for 3-month suspension of gas, diesel taxes to 'provide families some immediate relief'
2. Capitol riot hearings to stretch into July, chairman says
3. Study: LGBTQ+ women receive 79 cents on the dollar
4. 'We have to look forward': First lady, Billie Jean King celebrate 50th anniversary of Title IX
5. Cement carbon dioxide emissions quietly double in 20 years
Quote of the Day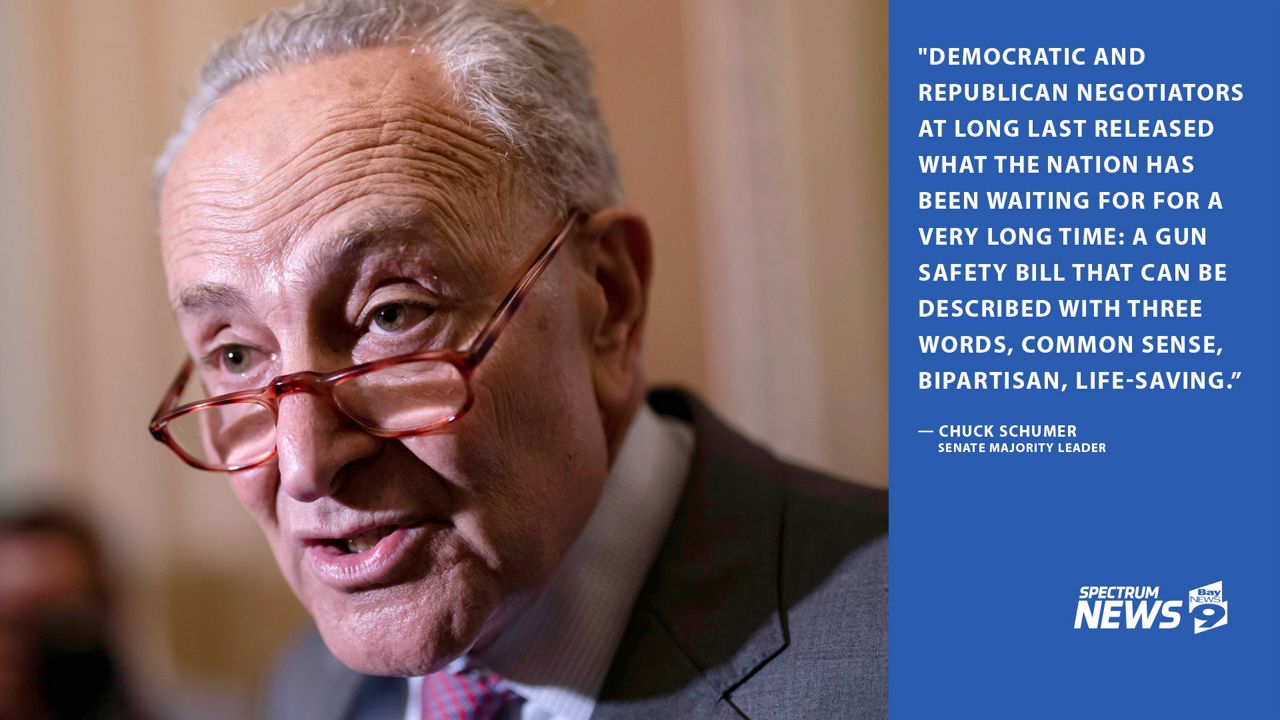 Senate bargainers reached an agreement Tuesday on a bipartisan gun violence bill, potentially teeing up final passage by week's end on an incremental but landmark package that would stand as Congress' response to mass shootings in Texas and New York that shook the nation.
Lawmakers released the 80-page bill nine days after agreeing to a framework for the plan and 29 years after Congress last enacted major firearms curbs. It cleared an initial procedural hurdle by 64-34, with 14 Republicans joining all 48 Democrats and two allied independents in voting yes.