TAMPA, Fla. — If you think you had it rough when you were going to school as a kid, imagine an 11-hour school day, six days a week and for 11 months of the year.
This is the rigorous routine for more than 100 Tampa middle schoolers.
Their goal is to give kids a full education.
---
What You Need To Know
This week's A+ Teacher is Michael Young


Young is a middle school coach at Academy Prep Center of Tampa


---
It's also a gambit for this week's A+ Teacher Michael Young, who is providing his Academy Prep Center of Tampa students with critical thinking skills.
Young is a 23-year veteran educator and coach.
"If you're going to play chess and be a good chess player, you have to use your pieces," Young told his 6th grade class recently. "The focus, the concentration, the ability to take a problem and look at it from a different angle."
Step on Academy Prep's campus and you'll feel the intensity of chess games everywhere. Chess is a required class for this college prep middle school.
"They're learning how to engage, to hone their skills in critical thinking and strategic thinking and creativity," said Academy Prep Center of Tampa L'Tanya Evans.
Young said he uses chess as a way of teaching children key skills, like socialization.
"Chess helps our children be able to sit with anybody," Young said. " 'How are you? Good morning. Good luck!' They sit down. They shake hands after a loss."
Not that there are many losses though.
Young's teams have ranked Top 5 in the country for the past several years.
A Tampa native, Young was named Coach of the Year by the Florida Chess Association.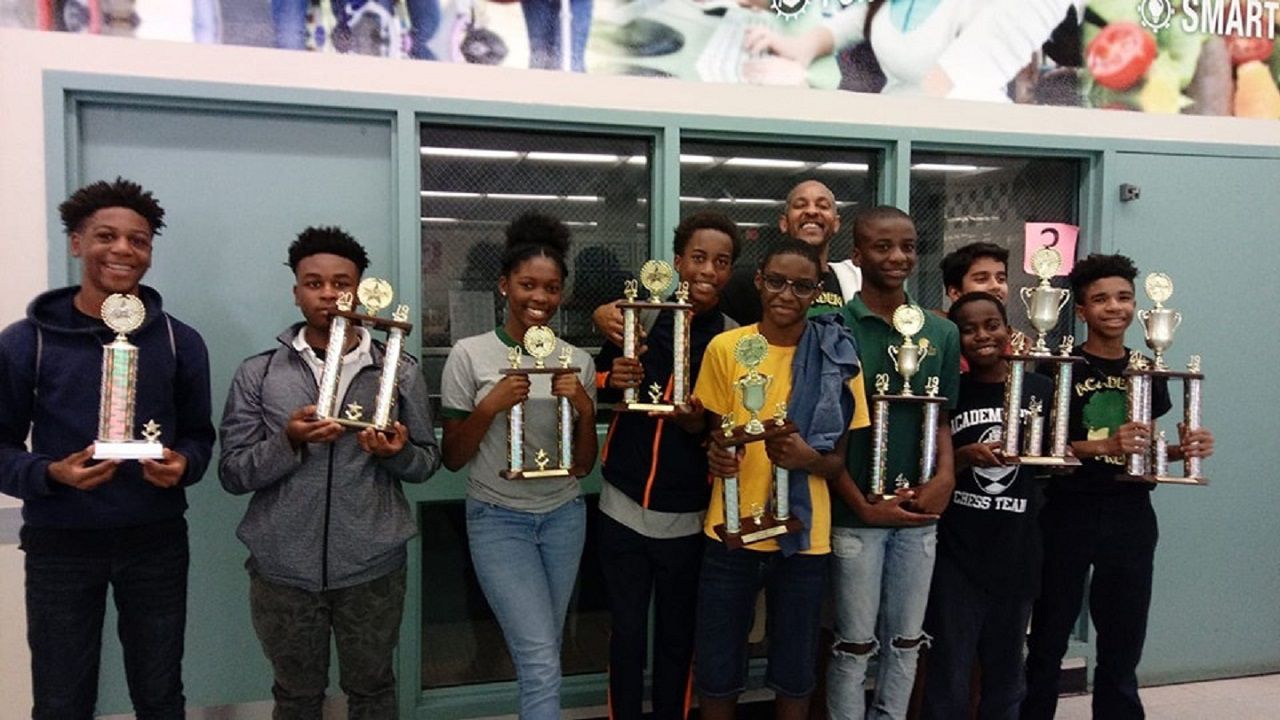 Coach Young's chess teams have ranked in the Top 5 in the U.S. for the past few years. (Michael Young)
It's his mission to know every student and their families.
"Incredibly positive person," Evans said of Young. "From the moment I met him, I was like this man's heart is huge."
And his heart and love for his students are always on display.
"It's not all about winning," he said. "A girl just beat me last period. She was so excited. She's never beat me in her life. She was literally screaming. I hope it didn't disrupt the other classes
"But then she sat down and calmed down and said, 'I'm sorry,' and I said 'No!' You should be super excited. You just beat your teacher."
Young also credits his uncle with giving him his first chess board when he was just 8 years old. He's been playing competitvely and teaching others the game ever since.
"When I was younger, I beat my coach in basketball and I remember how he talked to me and being respectful he said, 'The goal is for you to beat me young man. The goal is for you to learn this, take it and groom it.'
"So I always treat the kids with respect, the way I would want to be treated, and how I would want someone to teach my child."