UPDATE: Crews continue to monitor temporary repairs made to the liner of a once leaking reservoir at Piney Point, they're also bracing for rain.
Weekend storms could add to the problem of dealing with hundreds of millions of gallons of Phosphate mining wastewater.
In a Saturday news release, the Florida Department of Environmental Protection said it is coordinating with state meteorologists and response teams that will remain on site while the weather passes.
Florida Department of Environmental Protection
---
EARLIER COVERAGE:
Manatee County, Fla. – The discharge of water at the Piney Point site is complete, according to the Florida Department of Environmental Protection.
In a Friday afternoon news release, the agency said about 223 million gallons remain in what it called the "NGS-South compartment."
It said 215 million gallons have been discharged to the port.
"All discharges of untreated water to Port Manatee are currently ceased," the news release said.
Meanwhile, the submersible rover searching for the tear in the liner of a wastewater reservoir at Piney Point has found the tear in the Piney Point reservoir lining and repair efforts are underway, DEP said Thursday.
Piney Point Update: The FL DEP says in the past 24hrs they've reduced the toxic water discharge at Port Manatee by 90%. Now less than 5M gallons per day is flowing into Tampa Bay, down from 35M. Divers also found the liner tear & hope to plug it up soon. @BN9 #PineyPoint pic.twitter.com/2YV84kpxoK

— Josh Rojas (@JoshRojasBN9) April 8, 2021
As of Thursday afternoon, about 232 million gallons remain, but DEP says the amount of wastewater being pumped into Port Manatee had been reduced by more than 90%.
The plan going forward is to store the most contaminated water in deep-water injection wells almost a mile beneath the surface – below the aquifer.
In the meantime, the evacuation order in place for more than 300 homes near Piney Point was lifted on Tuesday, and impacted residents were allowed to return home immediately.
Officials said that well water and drinking water in the area is safe, but some residents are returning home with lingering concerns.
"Absolute relief that our home is safe from any kind of flooding or toxic water, but we are really concerned about our wells. We have two wells here. We don't know how that's going to affect our well water," Suzy Ardila told Spectrum Bay News 9. "I think this is going to take years – many many years. And we want assurances that we're safe and our kids are safe in our water in our land. So, I don't know how that's going to happen."
---
PREVIOUS STORY
MANATEE COUNTY, Fla. — The situation remains critical, but Manatee County officials say progress is being made in the effort to protect homes, businesses and the environment from hundreds of millions of gallons of phosphate mining wastewater being stored at Piney Point.
"After a preliminary meeting on developments at Piney Point with the U.S. Army Corps of Engineers, Department of Environmental Protection and the Department of Emergency Management, Manatee County Public Safety officials feel confident to re-open U.S. 41 Highway," the county's Public Safety Department tweeted Tuesday morning.
---
What You Need To Know
Officials confirm no additional reservoir leaks


U.S. 41 is set to reopen as flooding threat recedes


Hundreds of homes have been evacuated around the phosphate plant


Millions of gallons of nitrogen-rich acidic wastewater pumped into Tampa Bay



⬇️ Resources for affected residents and business owners


---
Despite concerns on Monday, the Florida Department of Environmental Protection confirmed there are no new leaks at the site.
On Tuesday afternoon, the DEP provided the following status update:
#Update from Florida DEP on #PineyPoint:
• Roughly 302 million gallons remain in the reservoir
• 35 million gallons being discharged per day
• Last night 3 more pumps were brought online
• Still just one leak
• Water quality results still meet quality standards @BN9

— Jorja Roman (@JorjaRoman) April 6, 2021
Agriculture Commissioner Nikki Fried visited Piney Point on Tuesday, after 26 new pumps and 10 vacuum trucks were brought into speed up the draining process.
The prospective gubernatorial candidate expressed her concerns about a possible plan to store the wastewater by injecting it into deep wells. Fried said there needs to be a permanant solution.
Commissioner Fried spoke about the need for a permanent solution to fix the issues at #PineyPoint. Last week Representative Vern Buchanan shared that the Florida DEP was looking into deep well injection. Fried says she does not support that as a solution @BN9 pic.twitter.com/RKREvlYvg7

— Jorja Roman (@JorjaRoman) April 6, 2021
The latest report leaves less than 300 million gallons of wastewater in the massive reservoir, and the DEP said it's testing water quality at 11 locations around Port Manatee. Officials say the water is not radioactive and passes quality standards, but serious environmental concerns remain.
The wastewater is rich with phosphorus and nitrogen, making it acidic and potentially harmful to Tampa Bay's delicate ecosystem.
Environmental Impacts
The Department of Environmental Protection says the water in the pond is primarily salt water mixed with wastewater and storm water. It has elevated levels of phosphorous and nitrogen and is acidic, the agency says. That water is being pumped into Port Manatee which leads into Tampa Bay.
The EPA says too much nitrogen in wastewater can cause harmful algae to grow faster and trigger fish kills.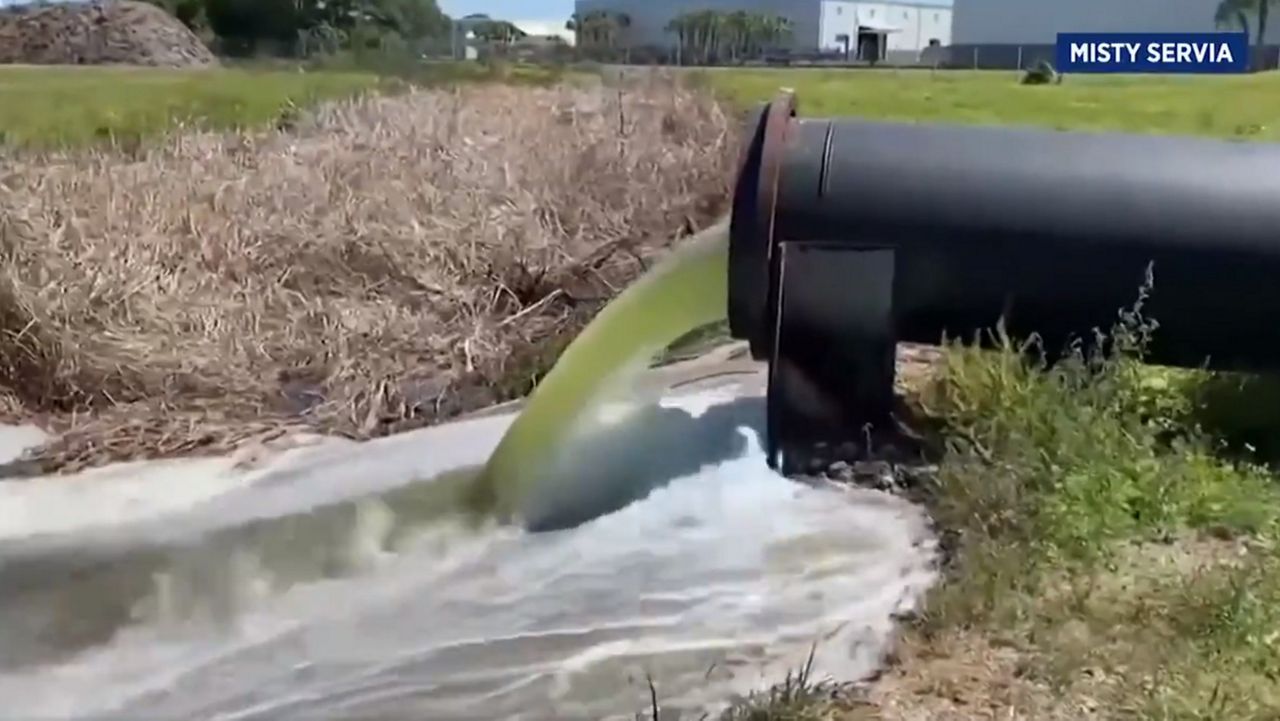 Waste water being pumped out of Piney Point (Manatee County Commissioner Misty Servia)
"This is something, unfortunately, that could have been dealt with over the years," Rep. Vern Buchanan (R-FL) said after taking a first-hand look from a helicopter on Monday. Piney Point is in his congressional district. "I want the best and the brightest on the ground ... This is something that could have been dealt with over the years. I'm not looking to assess any blame or anything else."
Environmental advocates say agree the looming threat should have been handled sooner.
"This environmental disaster is made worse by the fact it was entirely foreseeable and preventable," said Jaclyn Lopez, Florida director at the Center for Biological Diversity. "With 24 more phosphogypsum stacks storing more than 1 billion tons of this dangerous, radioactive waste in Florida, the EPA needs to step in right now."
Manatee County officials have said the more than 300 million gallons of wastewater remaining at Piney Point are not radioactive.
Residential Impacts
More than 300 homes have been evacuated. Officials warned that a complete collapse of the reservoir could send a 20-foot wall of wastewater into surrounding neighborhoods and businesses.
On Monday afternoon, the Manatee County Public Safety Department said on Twitter that more than 100 residents in the evacuation zone are being placed into hotels.
---
Resources and Information for Affected Residents
---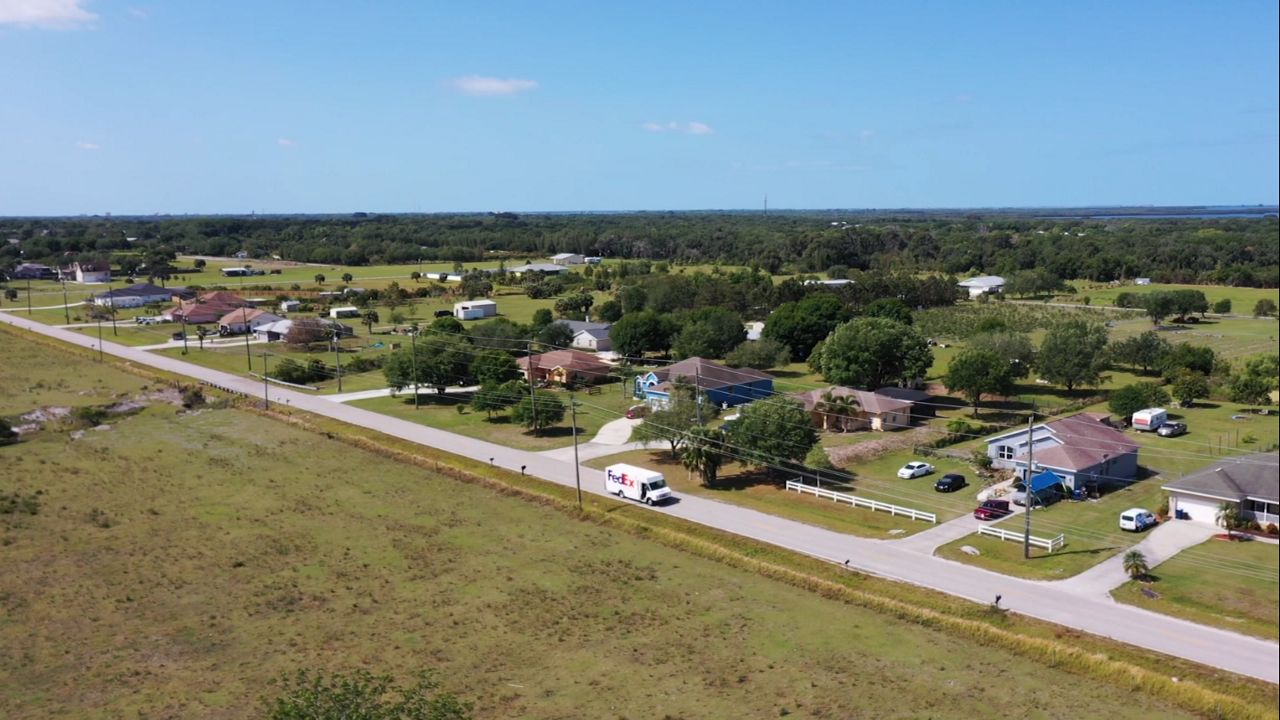 Homes near the Piney Plant site could be inundated by a 20-foot wall of wastewater if the reservoir fails, officials said. (Manatee County)
Some residents, however, are choosing not to evacuate – at least not yet.
"We're prepared to leave. I have bags packed and we can leave immediately." Niki Flanary told Spectrum News on Monday. She and her husband have two small children.
"Us being on top of the hill here, being elevated you know, this is our home. I feel that we are safe here," she said "If it were to burst, I just don't believe it would quite reach us. I would hope not, at least.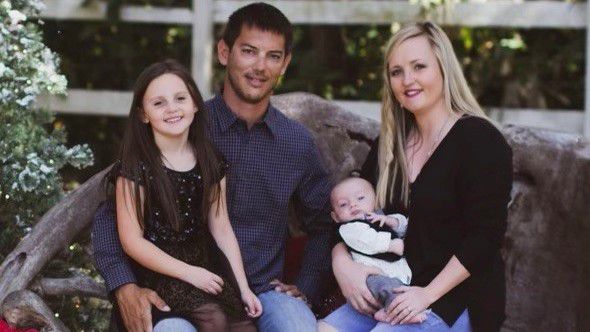 Niki Flanery and her family are refusing to leave their home near the Piney Point phosphate plant despite an evacuation order (The Flanery family)
The Piney Point situation is also impacting Manatee County district schools. All school bus transportation inside the evacuation zone has been suspended.
School Bus Routes Affected
Palmetto High School

Bus 1035

2405 113th St E

11209 Bud Rhoden Rd

105th St E & 31st St E

Bud Rhoden Rd & 100th Ct E

34th Dr E & Moccasin Wallow Rd

Moccasin Wallow Rd & 27th Ave E

Bus 1061 – Artisan Lakes Parkway & Mabry Dr (potentially)

Palmetto Elementary School

Bus 1068 – 10301 Bud Rhoden Rd

Palm View K-8

Bus 1061 – Reeder Rd & Piney Point Rd

Harvey Elementary School

Bus 1048 – 100 Ct E & Bud Rhoden Rd

Tillman Elementart School

Bus 651

Moccasin Wallow Rd & 34th Dr E

Moccasin Wallow Rd & 27th Ave E

2405 113th St E

10351 Bud Rhoden

Buffalo Creek Middle School

Bus 1036 – Moccasin Wallow Rd & 28th Ave E

Lincoln Memorial Academy

Bus 574 – Moccasin Wallow Rd & 27th Ave E
Previous Coverage
In an around-the-clock race to save hundreds of homes and avert an environmental catastrophe, crews are pumping hundreds of millions of gallons of wastewater from a leaking reservoir at an old phosphate gypsum plant before it collapses.
After days of fears of a plant collapse, Manatee County officials said earlier Monday they were confident the risk to neighborhoods near Piney Point can be elimintated in 48 hours if 20 more pumps could be brought online.
By Monday evening, the Florida Department of Environmental Protection said the "uncontrolled discharge to Piney Point Creek has ceased" and that reports of a second leak were "unsubstantiated."
"When the additional pumps come online, we will more than double the volume of water that we're pulling out of that retention pool," Acting County Administrator Dr. Scott Hopes said Monday. "We should be looking at anywhere from 75 to 100 million gallons a day by the end of the day."
Earlier Updates
Twenty pumps have been deployed to the site to move the water to surrounding waterways. With additional pumps on the way, officials hope to double the amount they can pump out per day, which is about 70 million gallons per day.
Officials say this will alleviate pressure on the breach, preventing a total failure. If that were to happen, officials said the surrounding areas could see a 20-foot wall of water.
The county is conducting hourly flyovers of the site with drone cameras to check on things.
The Manatee County Sheriff's Office has moved 345 inmates to an undisclosed location. About 720 inmates still remain at the facility and have been moved to the upper levels of the jail.
As of Monday morning, officials said no news is good news, and with the controlled release of the water, they hope to be in a better position by Tuesday.
Weekend Updates
7:10 p.m. Sunday:
The Manatee County Sheriff's Office announced Sunday evening that hundreds of jail inmates will be moved to an undisclosed location in response to the Piney Point phosphate plant retention pond leak.
A total of 345 inmates will be moved in order to free up bed space on the upper level of the jail, MCSO public information officer Randy Warren said in an email.
"For security purposes, we are not providing details right now about the transfer of inmates," he said. "Sheriff Rick Wells and staff are still in constant communication with officials on the situation. We're aren't expecting more than a foot of water on jail property, in the worst-case scenario."
The release did not say how long officials expected the inmates' relocation to last.
About 720 inmates will remain in the jail after the 345 are moved.
2 p.m. Sunday: Controlled wastewater discharge is ongoing Sunday afternoon at the Piney Point phosphate plant, according to Manatee County officials.

Manatee County Commission Chairman Vanessa Baugh said the threat remains but that officials are more comfortable Sunday with maintenance efforts than 24 hours before.
Additional pumps are being set up and expected to make a big difference in the threat of a complete breach of the reservoir.
Also, Baugh stressed there are no threats to drinking water in the area.
For the latest information on the Piney Point facility, go to mymanatee.org/pineypoint.
Earlier Sunday
After a tour by air of the Piney Point phosphate site Easter morning, Gov. Ron DeSantis stressed that work is being done to control the wastewater discharge, environmental concerns are being addressed, and a permanent solution to the problem will be pursued.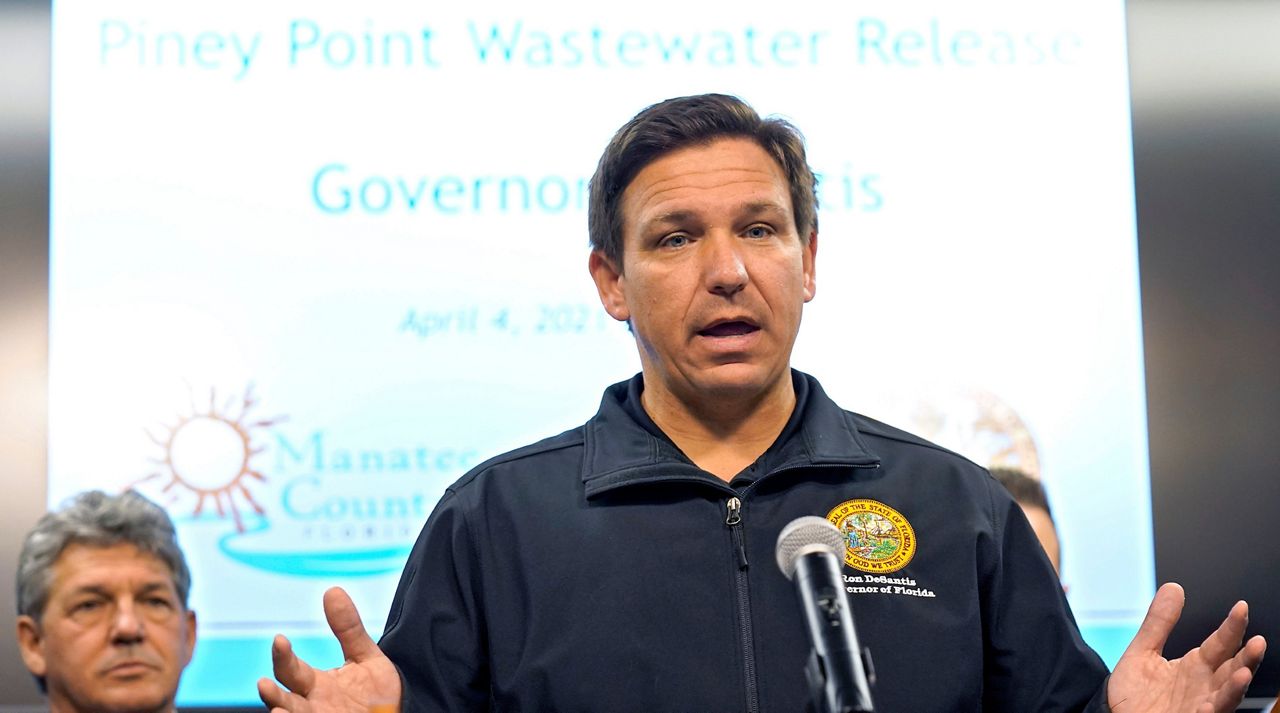 Florida Gov. Ron DeSantis gestures during a news conference Sunday, April 4, 2021, at the Manatee County Emergency Management office in Palmetto. (Chris O'Meara/AP)
Engineering crews and state and environmental officials continue to work on the developing breach and potential collapse of a gypsum stack at the Piney Point phosphate site in Manatee County.
What started as a leak that prompted 10 to 15 homes to be evacuated escalated on Saturday as Florida ordered more than 300 homes to be evacuated and closed off multiple roadways near the large reservoir north of Bradenton. Officials have said a collapse may be "imminent."
DeSantis ordered a state of emergency for Manatee County that later expanded to Hillsborough and Pinellas counties.
"What we are looking at now is trying to prevent and respond to, if need be, is a real catastrophic flood situation," DeSantis said, adding that public health and safety is the top priority, as well as minimizing any environmental impacts.
The governor said an additional 20 pumps and 10 vacuums are being brought in to continue in the controlled release of wastewater, about 35 million gallons per day. That is necessary to avoid a full breach of the leaking Piney Point reservoir.
He urged residents to follow evacuation orders in the areas affected by the ongoing leak and said residents can call 311 for information, follow @ManateeGov on Twitter or go to protectingfloridatogether.gov/PineyPoint for updates.
U.S. 41 remains closed from Buckeye Road to Moccasin Wallow Road. Moccasin Wallow Road will be closed west of 38th Avenue East.
David Allen has lived in the contaminated area since 2013.
"I didn't know that was there," he said. "Nobody said I lived a mile from a hazardous waste site."
Allen worries that the contamination will put his family in danger.
"I'm drinking this water, my family is drinking this water, my animals are drinking this water," he said. "I want to know what's in it."
While officials have said the water from the affected retention pond meets environmental standards — and is not radioactive — Allen said he is still concerned that the water may be more dangerous than they are letting on.
"I know that they said that particular pond is not the one that has the contaminants in it," he said. "How do we know that? There are three or four contaminant areas — how do we know cross-contamination hasn't happened over there?"
Along with the health concerns that Allen has about the situation, he said the leak will hurt his wallet as well.
"I live here, not because of my property value, but I live on a high-value property," he said. "Now, with this, who's going to want to buy if I sell it? My property levels are going to go down."
Acting Manatee County Administrator Dr. Scott Hopes said the ongoing pumping and piping is to avoid a full breach.
"If we should have a full breach... in totality, in a period of minutes, the models, for in less than an hour, are as high as a 20-foot wall of water," Hopes said.
Water quality is being monitored, DeSantis said, adding the wastewater is not radioactive. He said the main concern with the discharged water is the nutrients, mainly phosphorus and nitrogen.
The governor added the facility operator HRK Holdings will be held accountable for any stack failure and permanent solutions to the facility's ongoing problems are a priority.
Officials brought in rocks and materials to plug the hole in the pond late Friday into Saturday, but the attempt was unsuccessful.
There are more than 800 million gallons of toxic wastewater on the Piney Point site. The concern remains that a breach will spill millions of gallons of the toxic water into the surrounding area.
The water is a byproduct of the production of fertilizer from phosphate rock. It is acidic, and the stacks have long been a source of controversy among environmentalists.
"This is nothing that should come as any surprise to officials that have been monitoring this phosphogypsum stack," said Jaclyn Lopez, Florida Director of the Center for Biological Diversity. "It has had a series and history of repeated leaks and breaches and discharges into Tampa Bay and this latest is the most alarming because it's caused this public notice that's forced the evacuation and the governor to declare a state of emergency."
Workers have been pumping out thousands of gallons per minute at the site to bring the volume down in the event the pond bursts. Pumping the entire pond would take 10 to 12 days. Others have been working to chart the path to control how the water flows from the pond into Tampa Bay.
In addition to the local and state officials, the EPA, the National Guard and the Red Cross all have officials on site.