Tampa Mayor Jane Castor today blasted the Florida Legislature's recently passed bill that bans transgender athletes from women's and girls' sports.
---
What You Need To Know
Tampa's mayor opposes Florida's transgender sports ban


Jane Castor also takes issue with the so-called "anti-riot" law


She also commented on the state's long-controversial "Stand Your Ground" law
---
"I think it's completely unnecessary, and frankly it's mean spirited," said the mayor, an all-state basketball and volleyball player at the University of Tampa in the early 1980s.
The measure — known as the Fairness in Women's Sport Act — passed largely along party lines in the legislature last month. It had been postponed at one point in the Florida Senate, after the NCAA Board of Governors released a statement saying that it would only hold such events at locations "free of discrimination."
Florida lawmakers reacted with defiance when asked if they feared a potential NCAA boycott of the state as the legislation advanced last month.
"I'd say we couldn't care less," House Speaker Chris Sprowls said in Tallahassee last month. "Whether it's the NCAA today or it might be someone [else] tomorrow, that we're going to use, you know, our 'corporate largesse' to bully the state. Our message — I think it's the governor's message, it's certainly my message — The state of Florida isn't going to be bullied by any corporate actor."
House Speaker Chris Sprowls, R-Palm Harbor, addresses representatives at the start of a special session, Monday, May 17, 2021, in Tallahassee, Fla. (AP/Steve Cannon)
Last October, the NCAA announced that the Tampa Bay area had been selected as the host of several upcoming major championships over the coming years (including the "Frozen Four" hockey championship in 2023, the women's Final Four basketball championship in 2025 and the first and second round of the college men's basketball tournament in 2026). Castor told Spectrum Bay News 9 that she now has serious concerns about whether the region will be allowed to host those events.
"We in Tampa have four NCAA events that bring a great deal of tourist dollars to our area, not to mention the excitement on the part of the fans. And those are in jeopardy now because of this senseless legislation," she said after her appearance before speaking at an event hosted by the Tampa Bay Chamber of Commerce at the Downtown Hilton Hotel in Tampa.
Castor was one of more than 100 elected officials in Florida who made their opposition to the transgender bill known last week when they co-signed a letter organized by Equality Florida announcing their dissent from the bill.
In a Q&A with ABC 28 reporter Jasmine Styles, Castor also criticized other actions by the Florida Legislature this session — and from years before.
She called HB1, also known as the "anti-riot" bill that was among the most contentiously debated of the session, as being "completely unnecessary" in Tampa. Castor also called out lawmakers who have supported the "Stand Your Ground" law that was first passed in the state in 2005, but became internationally known following the Trayvon Martin/George Zimmerman incident in 2012 (though in fact Zimmerman's defense team did not invoke the 'stand your ground' defense in getting an acquittal of murder charges).
In this Nov. 19, 2013, file photo, George Zimmerman, acquitted in the high-profile killing of unarmed black teenager Trayvon Martin, listens in court, in Sanford, Fla., during his hearing (Joe Burbank/Orlando Sentinel via AP)
A former police chief who served with the Tampa Police Department for 31 years, Castor took particular aim at the central part of the law that allows those being threatened with bodily harm not to retreat.
"To say I'm not going to choose to retreat, which is an option that police officers use on a regular basis — Instead I will choose to take another human being's life, rather than retreat? I think that was written by individuals who've never been in those types of encounters and have never seen another life being taken — which I have, as a police officer. And I think that there's no need for that law, and there's no need for the anti-riot, either."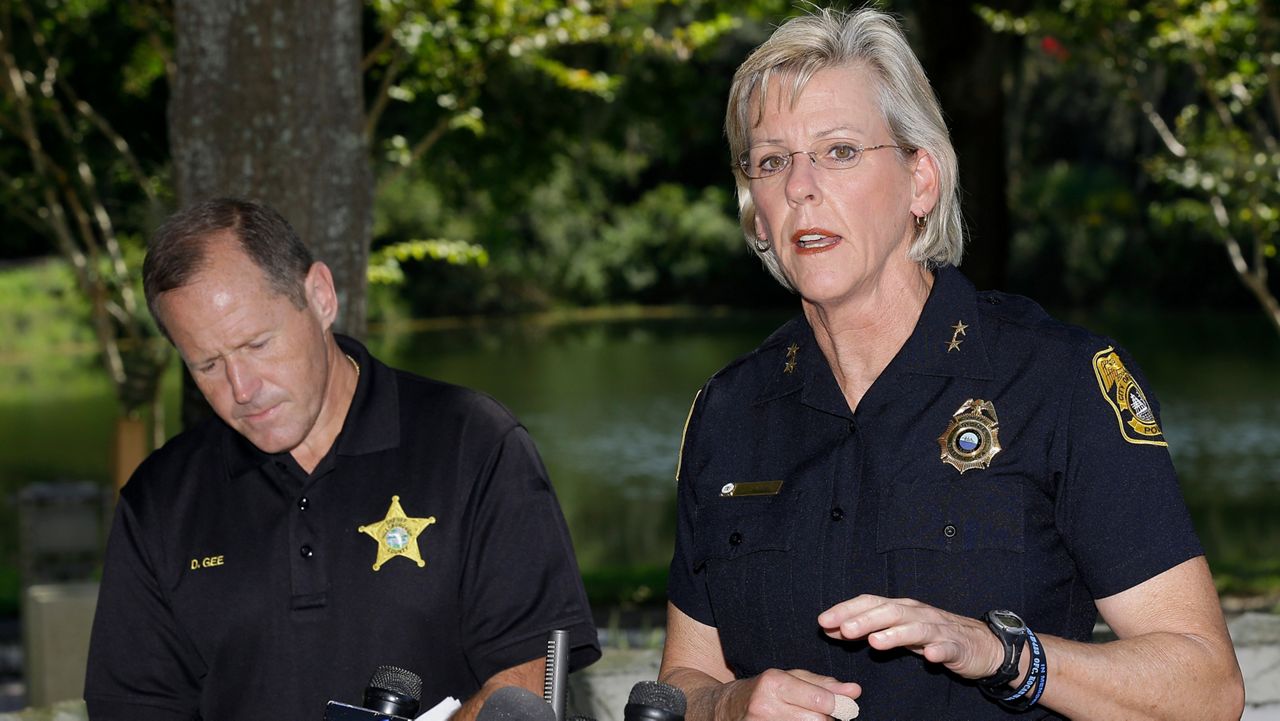 Tampa Police Chief Jane Castor, along with Hillsborough County Sheriff David Gee, brief the media on their search for a suspect in a series of home invasions and sexual assaults near the University of South Florida Friday, Sept. 6, 2013 (AP/Chris O'Meara)
In looking back on how Florida handled the still ongoing pandemic, Castor said she appreciated how Gov. Ron DeSantis initially didn't get too involved, allowing local governments to make their own rules, but she then added that she regretted what she called the "unnecessary politicizing of a health crisis."
"I don't think that there was a need for that, and if we had just all come together and did what was in the best interests of our residents, our communities and our state, I think that we would have weathered this pandemic a lot better as it relates to the lives that we're lost."
Castor also said the number of vaccinations for COVID-19 have dropped off dramatically in Tampa from a high water mark of approximately 5,000-6,000 shots administered daily to less than 1,000 on some days. And she says that there's still a problem in getting more people in the Hispanic/Latino regions of the city from getting the vaccine.