CITRUS COUNTY, Fla. — The Citrus County Board of County Commissioners declared a local state of emergency for residents living in the flooded areas throughout the county, that is in response to the record-breaking amount of rainfall the county has received this wet season.
---
What You Need To Know
Citrus County received a record amount of rain this rainy season


From June to September, engineers reported the county received about 50 inches of rain


The amount of rainfall caused the Citrus County Board of County Commissioners declared a local state of emergency
---
To date, engineers have recorded about 50 inches of rain from June to September.
The last time Citrus County averaged close to 50 inches of rain was during the 1960 wet season, and before that was in 1945.
Bay News 9 received aerial footage from the area around Citrus Avenue in Dumnellon, covered in water.
Residents told Bay News 9's Katya Guillaume they've been living like this for weeks.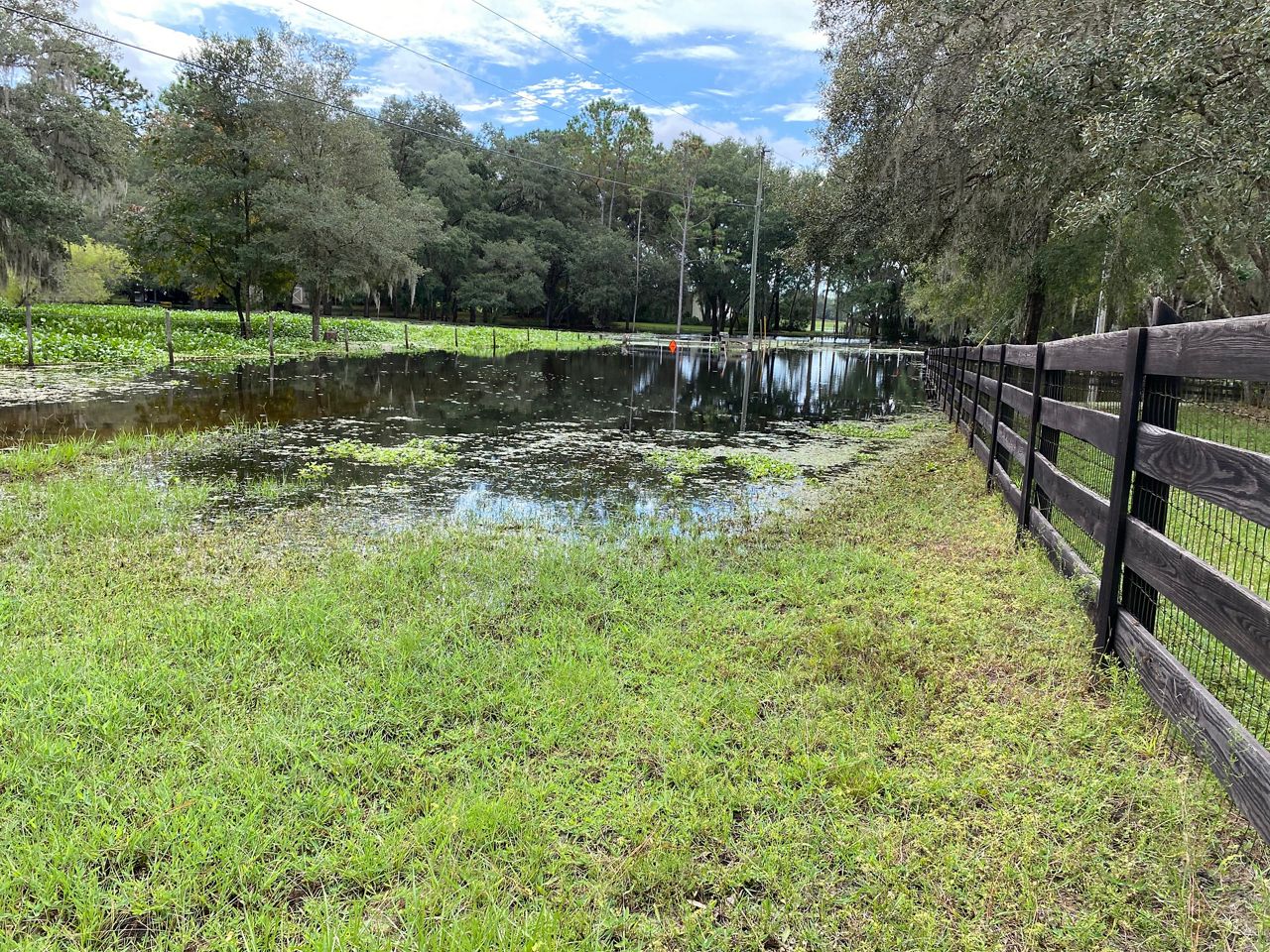 "Around the block, on Eubanks, the first house that flooded, that house has flooded before," Lisa Bower said. "We have never had this magnitude of water throughout the entire neighborhood like we have now."
Bower who's lived in the community for more than 25 years said in parts of her neighborhood, residents are seeing upwards of 17 inches of standing water.
She said she had to rent a truck to get in and out of her property out of fear of not wanting to damage her Ford Escape.
"It's taking half of my salary to pay for a truck so I can go to work," she said.
Nancy Corriveau and Chuck Runkel live just a few doors down and have been in the neighborhood for 46 years.
For them, a vehicle is out of the question.
"Our house is completely on an island," Corriveau said. "Fortunately it came just to the house and stopped, so all of our facilities still work. We have to depart and return by canoe."
"We start off with boots on and then we get in the canoe then we get to the suburban," Runkel said.
"Then we get to three or four flooded rivers and we're on 495," Corriveau added.
Residents are now asking what can be done. Their trash service is not coming to their homes, even the post office is not delivering to their front door, so they are reaching out to county leaders for some answers.
"Fix the road, that's the main thing," Runkel said before leaving, "That'll help everybody."
Director of Public Works and County Engineer Brian Kauffman told Spectrum News that the county has been looking into how they can help.
He said the reason for the amount of standing water is simply the rain levels. He explained that closed water basins in the hardest-hit areas of the county make it difficult for the water to go anywhere which is why the water is taking so long to recede.
"Some of the areas that you've seen are hundreds of acres in size they're over 2 miles to the closest outfall so pumping is not a very cost-effective method for solving the problem," he said.
He said right now the only option is to wait until the area dries out before they can go out and assess how to use parts of next year's $4 million budget to fix the problem and that could take months.
The County's Housing Department does have a grant in place to help residents impacted by stormwater, but without any damages to a resident's property, they would not qualify for the grant.
Kauffman said the Local State of Emergency declared by the county will get the state government to also look at ways to help the county. He said they are also monitoring for any possible sinkholes that may come up with the amount of water due to the rain.