They say teaching is a calling – a calling to want to help inspire the young minds of tomorrow.
The Bay Area is filled with incredible educators, and organizers with the Milken Family Foundation agree.
For 35 years, the foundation has been honoring and awarding cash prizes to some of the best educators in the country. On Tuesday, they traveled from California to the Tampa Bay Area to recognize two extraordinary teachers; Ashley Hernandez, a high school mathematics teacher at Riverview High School in Sarasota County, and April Crisci, a kindergarten teacher at Westside Elementary School in Hernando County.
Ashley Hernandez, Riverview High School, second Florida recipient. (Photo courtesy: Milken Family Foundation)
Milken Educator Awards Vice President, Stephanie Bishop told Bay News 9's Katya Guillaume, "This award is so important because we are spotlighting the best of the best in K-12 education and Ms. Crisci really represents the best of the best and by spotlighting her, we're hoping to put a positive spotlight on education in general and inspire talented young people to become teachers."
An important task, especially right now when the Florida Education Association advertised over 4,000 teaching vacancies at the beginning of the year.
There's a reason April Crisci is this year's Milken Educator Awards recipient. She's been educating young minds for almost 20 years — the past 14 – the youngest of them all.
Her students are always eager to learn, and she loves teaching them
"They make everything worth it," Crisci said.
Even during the pandemic, 98% of her kids met their expected growth.
She always knew she wanted to make a difference.
Remembering her time in high school, she told us, "I became a teacher because in high school I had volunteered at the elementary school that I went to and I fell in love with kindergarten really and that's what I really wanted to do."
This humbled teacher never thought her passion would lead to this, a $25,000 check and an opportunity to join a group of over 2,500 other educators that are dedicated to excellence in education.
"I had no idea," she said. "All I kept saying as I was going around the room, looking at everybody and thinking this person is deserving of it, this person is amazing, this person has done so much for the school, so I had no clue at all."
A surprise delivered in front of an audience she calls family.
The Milken Foundation has awarded more than $70 million since it started in 1987 and 46 recipients in Florida since the start.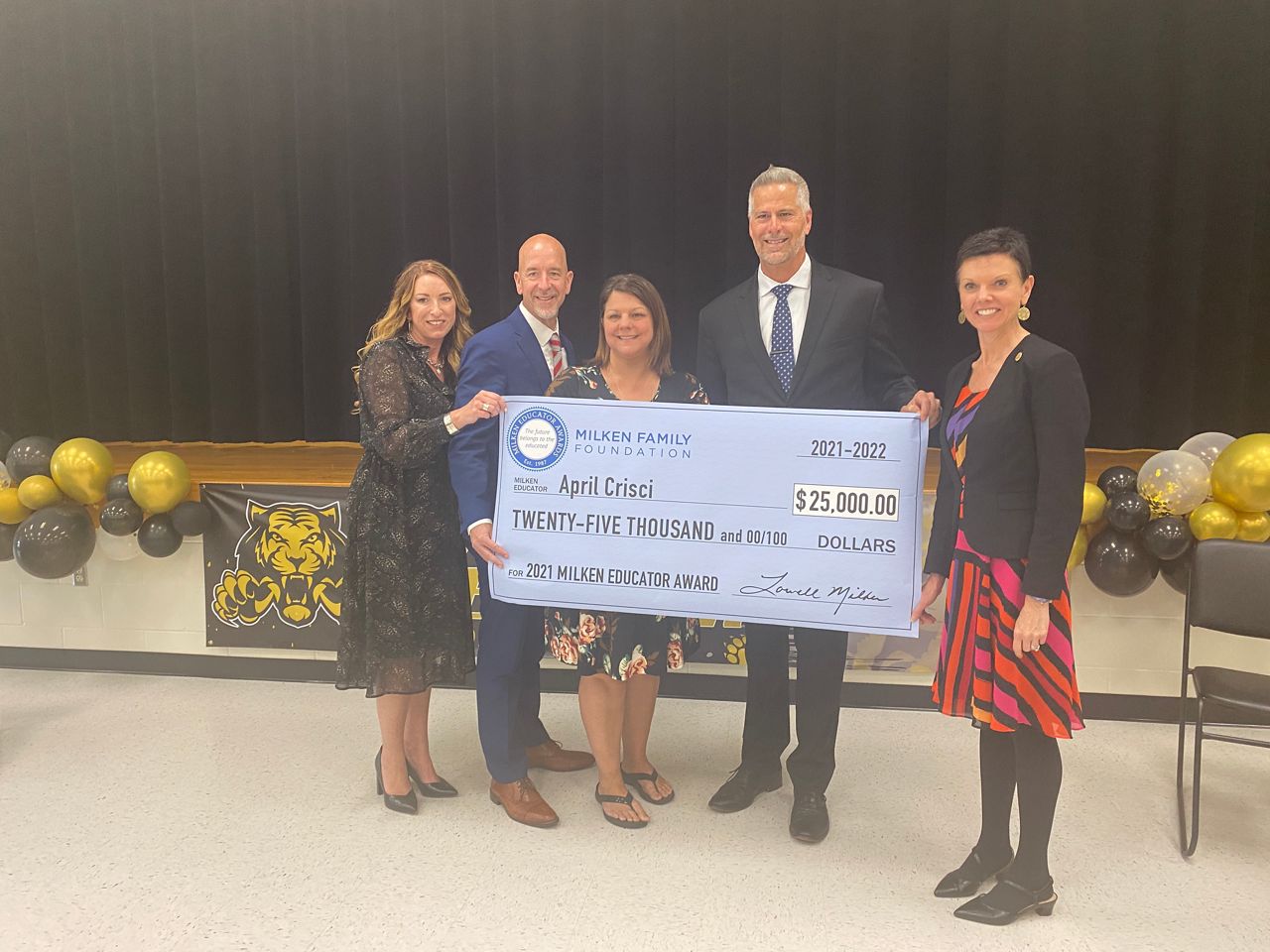 Recipients do not apply for an award they do not even know they are being considered.
According to the organization, candidates are sourced through a confidential selection process.
The Milken Foundation was established in 1982 to discover and advance inventive and effective ways of helping people help themselves and those around them.