TAMPA, Fla. – As researchers with the University of South Florida continue to recruit for the Preventing Alzheimer's with Cognitive Training, or PACT Study, the school recently learned it was awarded millions more for research that can help develop blood tests to detect Alzheimer's Disease.
"First and foremost, it will help us to diagnose it much easier, much quicker through primary care," said Jerri Edwards, principal investigator with the PACT Study and a professor of psychiatry and behavioral neurosciences, of the blood tests for Alzheimer's.
USF was awarded $3.2 million from the National Institute on Aging for this latest effort. Edwards said the National Institutes of Health approached PACT researchers since they knew they planned to do PET scans to see if participants showed signs of Alzheimer's and dementia. They asked the team to start measuring blood at multiple time points since Alzheimer's-related pathology can be detected through blood tests. Edwards said the team shifted gears and partnered with the National Centralized Repository for Alzheimer's Disease and Related Dementia at Indiana University to take blood samples from participants who are willing.
"So, then we'll be able to refer people to get the help they need earlier. Hopefully, in science, it will help us to develop better tests, better treatments, really, if we can learn more about what's really going on in the brain," Edwards said of an Alzheimer's blood test. "It's really going to advance our way to find a cure for this disease."
Meanwhile, Edwards said the PACT study also made progress in the past year. She told Spectrum News it expanded to include Clemson University, Duke University, the University of North Florida, and the University of Florida, as well as trained staff and enrolled new participants nationwide. PACT asks participants to complete training exercises that are similar to brain games during a three-year period. The purpose is to see whether this kind of cognitive training can stop Alzheimer's and other dementias from developing.
"What we're doing in the PACT Study is we are getting a very thorough clinical diagnosis of cognitive impairment and dementia at the end of this trial. We're also comparing different kinds of computerized training and exercises to see if we can really figure out which ones work best," Edwards said.
Valerie McDarby, 78, completed her role in the study earlier this year. She said she has no loved ones who were affectedd by the disease and wasn't particularly concerned she could be affected.
"Just seemed like something I could do for somebody else," said McDarby, who enrolled after hearing Edwards speak at The Bridges assisted living facility.
McDarby said it was easy to take part in the study, but the training exercises themselves were challenging.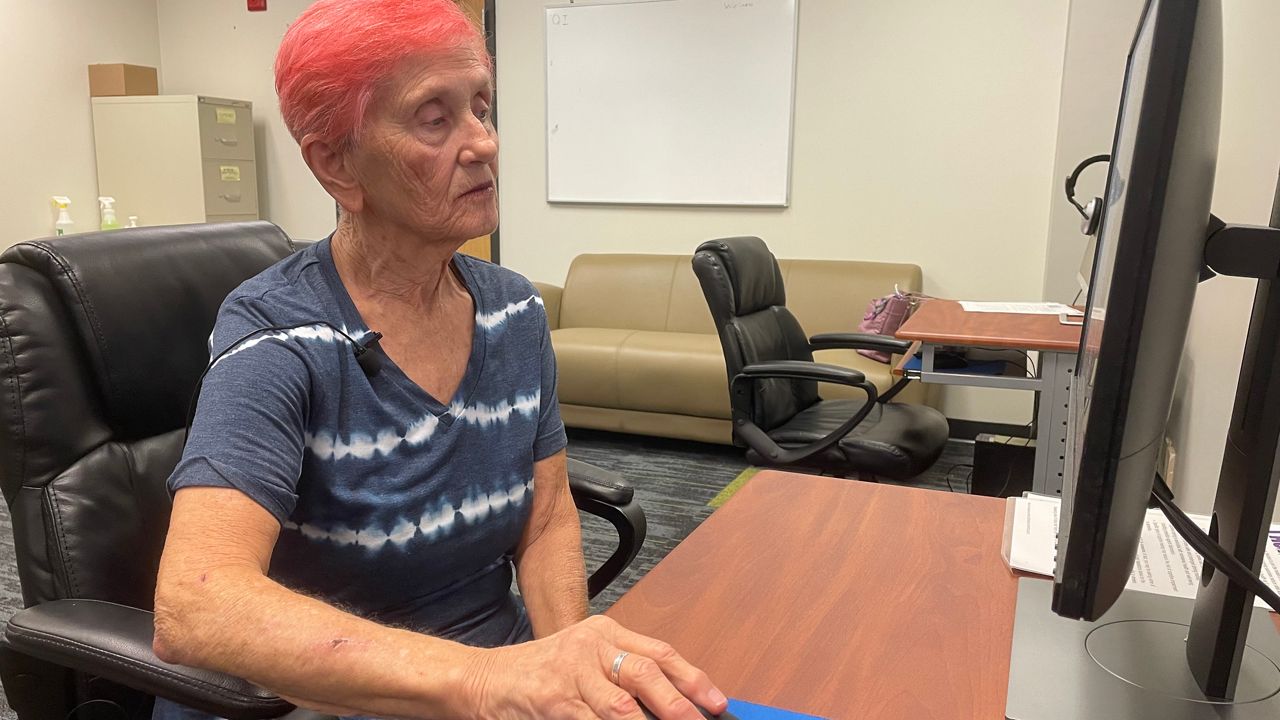 "I did have to go in another room and close the door and kind of focus on what I was doing. It wasn't something I could do and be distracted," she said.
Edwards said the study is ongoing and researchers haven't analyzed the data yet, but McDarby said she thinks she experienced unexpected benefits. She said she faced a number of personal challenges during the three years she took part, including a transient ischaemic attack, or "mini stroke".
"From one week to the next, you could see things changed in my scores," McDarby said. "Then, by continuing on the road I was supposed to do, my scores came back up. There were several things like that that happened to me, and I still know in the end, from my first interview to my final interview, that I improved."
USF needs thousands more older adults to take part in the PACT Study. To learn more, visit the study's web site.
According to the Alzheimer's Association's "2022 Alzheimer's Disease Facts and Figures", 6.5 million Americans age 65 and older are living with Alzheimer's Disease and one in three senior citizens dies with this or another dementia. For resources, visit the association's web site.