TAMPA, Fla. — As the investigation into what caused a sight-seeing helicopter to crash into Tampa Bay continued Friday, Tampa police highlighted the aftermath of the Thursday afternoon incident, including that Tampa Bay Buccaneers backup quarterback Blaine Gabbert played a significant part in rescuing the crash victims.
Four people escaped injury Thursday afternoon when the helicopter they were in crashed into Tampa Bay near Davis Islands.
---
What You Need To Know
Four people rescued after helicopter crashed into Tampa Bay


Bucs backup QB Baline Gabbert and his two brothers were on jet skis at the time of the crash and plucked the crash victims out of the water


Gabbert said they "were in the right place at the right time"


WATCH: The Tampa Police news conference below
---
According to Tampa police, the aircraft went down into the water 200 yards from Peter O. Knight Airport just after 5 p.m. The pilot said he heard a loud noise before the aircraft lost power.
Three passengers on a sight-seeing tour and the pilot safely made it out of the submerged helicopter. Gabbert, nearby on jet skis with his two brothers, brought them all to shore.
"I vaguely remember seeing what looked like two yellow life vests," Gabbert said. "It looked like they were in duress so I said we got to go check this out."
Hunter Hupp, 28, from Philadelphia, was on the helicopter with his parents. The helicopter ride was a Christmas gift. Hupp said he and his parents had never been in a helicopter before.
"Nobody wants to hear a loud bang and for your pilot to go, 'We're going to make an emergency landing on the water.' But I mean, it happened so quickly," Happ said.
Tampa Police Interim Chief Lee Bercaw, Police Marine Patrol officers and Major David Arthur of the Hillsborough County Sheriff's Office all hailed Gabbert as a "citizen hero" during a news conference Friday at One Buc Place.
"I called 911 and tried to remain as calm as possible," Gabbert said while describing how he and his brothers pulled Hupp and Hupp's parents out of the water and onto the jet skis. "I was just in the right place at the right time. It was a pretty crappy situation that turned good in the end."
Gabbert said the authorities that quickly showed up were the real heroes.
"Credit goes to these guys," he said of the police response. "Cause if they weren't there in the nick of time, it could have turned bad."
Hunter said he and his family plan to return to Philadelphia on Sunday. He joked about perhaps meeting Tom Brady while here but said meeting the backup QB was more than a solid consolation.
"They were very nice," he said of Gabbert and his brothers. "They were super helpful. And they stuck around for a while. And they were a very integral part of helping us."
The Tampa Police Department is currently coordinating with local and federal agencies on the investigation.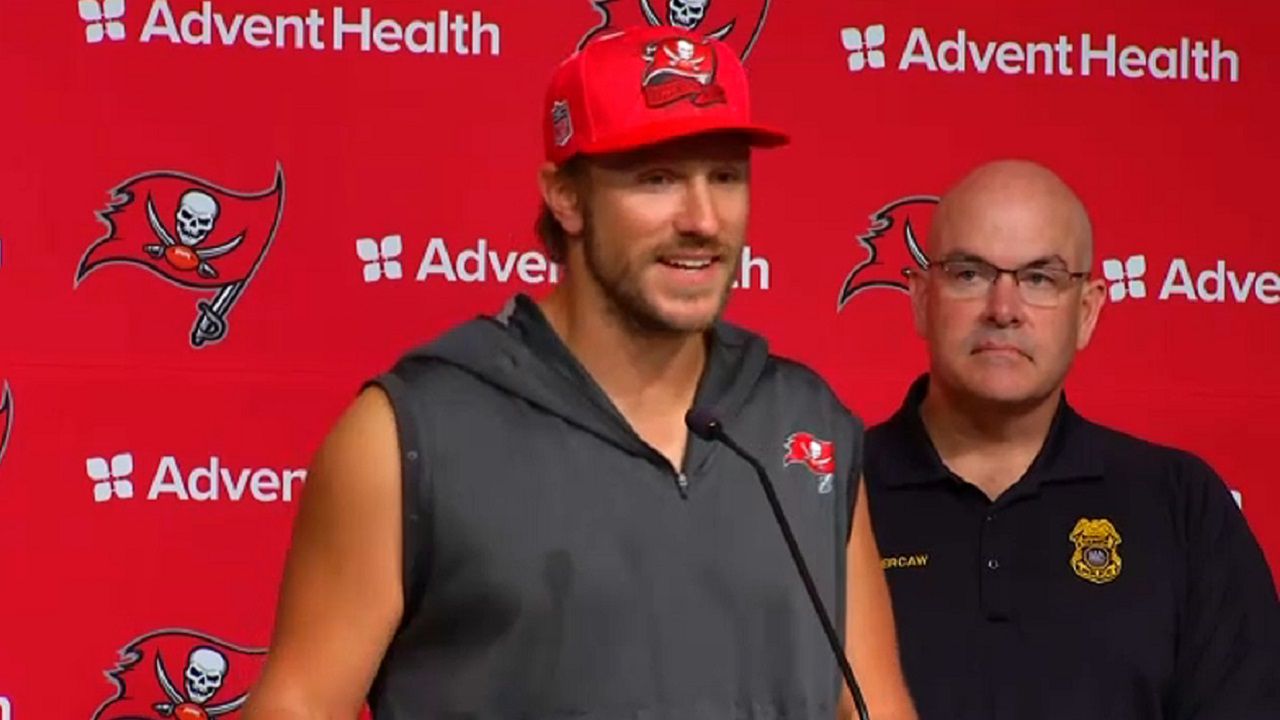 Bucs backup quarterback Blaine Gabbert and his two brothers were on jet skis Thursday afternoon when a helicopter went down in Tampa Bay. During a news conference Friday, Gabbert described how they help pull the crash victims out of the water and taken them back to shore. (Spectrum News image)