There are four people on the ballot running for two city council seats in New Port Richey on April 13: incumbents Matt Murphy and Mike Peters, and challengers Kate Connolly and Rachel Giuliani-Hagenbaugh.
---
What You Need To Know
Matt Murphy, Mike Peters among 4 running for Council


The election is April 13



---
Spectrum Bay News 9 spoke with Connolly and Giuliani-Hagenbaugh last week. Today, we take a look at the candidacies of Murphy and Peters.
Matt Murphy, 50, was elected to the New Port Richey City Council in 2018, and is seeking a second three-year term.
"It helps to have longevity," he says when asked why voters should reelect him.
Murphy has lived in New Port Richey for most of his life and is the owner of Farrell Power Company, which provides electrical contracting services.
Matt Murphy, 50, was elected to the New Port Richey City Council in 2018. (Mitch Perry/Spectrum Bay News 9)
"I saw that we were really starting to turn a corner in New Port Richey as far as economic development…and I wanted to make sure that we got these projects finished that we started," Murphy says about why he originally ran for office in 2018.
Those major projects he's referring to include the Main Street Landing, a mixed residential-commercial project that took over a decade to complete before opening last year. Another long-term project that is close to coming to fruition is the historic Hacienda Hotel. That facility was built in 1926 and is scheduled to reopen as a 40-room boutique hotel later this year.
Murphy has said that dealing with the city's homeless has been a top concern. He says that the council did the right thing in 2019 in passing an ordinance banning the building of any new motels or other "transient residential lodging" in areas around U.S. 19.
"A lot of very poor people, homeless, were staying in hotels…and basically the hotels were taking advantage of them," he says, adding that many people were living in "basically substandard conditions."
"We went in there and stopped them from doing the long-term stays in those types of places."
New Port Richey was the site of Black Lives Matter protests following the death of George Floyd last year that led to some intense confrontations with New Port Richey police. Unlike Tampa or St. Petersburg, the community hadn't seen a lot of public demonstrations over the years, and Murphy says that city leaders were initially caught off guard when the protests for racial equality and police accountability took place.
"It started out a little rough," he says. "We had some issues with it. Obviously, they're very passionate about how they feel and what they think needs to be changed. And there are those things that I agree with them on."
Mike Peters, 66, has only been in public office since November, when he was appointed by the remaining four members of City Council to fill the seat vacated by Jeff Starkey, who moved from New Port Richey. Peters owns an insurance company and has lived in Pasco for more than three decades.
"It's been a great experience," he says about his short time on the board. "We've jumped in really, really hard. Learned a lot. Already being effective. I'm looking forward to these next three years."
Peters says that while the city is rightly proud of the success of the downtown area, it's important to spread that success out to the neighborhoods.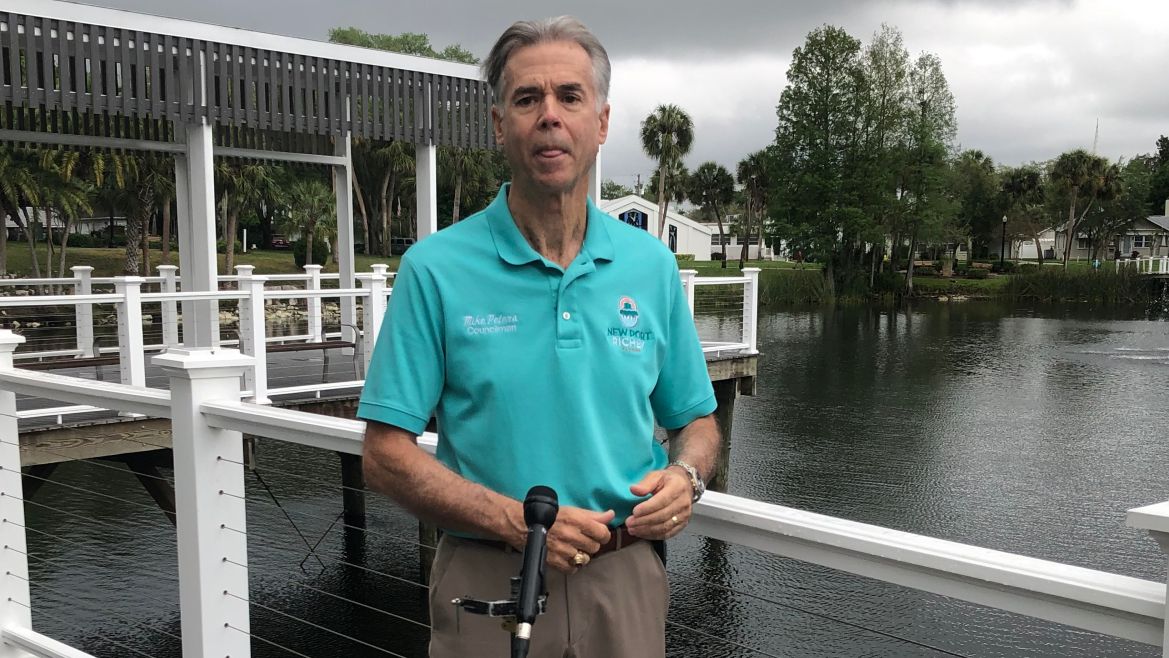 Mike Peters, 66, was appointed by the remaining four members of City Council to fill the seat vacated by Jeff Starkey. (Mitch Perry/Spectrum Bay News 9)
"I want people to have that same feeling when they step out their front door every day, to say 'hey, this is a great place to live.' He says one of the things the council can do to enhance those neighborhoods is by improving sidewalks and adding bike trails.
Peters also wants to have the public become more engaged with local government, specifically calling for some of the city's citizen's advisory committees to become more "robust."
"I want those committees to push the council. Push city management on their ideas, understanding that may they all don't get accepted," he says. "But we need that citizen input, because (out of) the ideas of many, we find out what the best ideas are."
Regarding the Black Lives Matter protests, Peters says that it was startling to him and others in the New Port Richey when they began last summer.
"My thoughts were like that of a lot of the city residents like, 'Wow. What's going on here?' Why did this happen here?'" he says, adding that it was important for everyone to "fully understand what the BLM movement is all about."
Like Murphy, Peters says he is happy that some BLM members and other community leaders have agreed to sit down and be part of a community task force to deal with racial issues moving forward.
This is the second part of a two-part series looking at the New Port Richey City Council race.
Listed below is information on all four candidates running for the three-year-term on April 13.
Matt Murphy's Facebook campaign page is here. Here is his Twitter page.
Mike Peters campaign website page is here. Here's his Facebook page. And here is his Instagram page.
Kate Connelly's website is here .Her Facebook page is here. And here is her Instagram page.
Rachel Guiliani-Hagenbaugh's campaign website can be accessed here. Her Facebook page is here.