Last week our weather pattern changed abruptly when tropical moisture was pulled northward out of the Caribbean into our state. We have a sub-tropical climate here in the Tampa Bay region with high humidity and daily rain chances for about 4 to 5 months out of the year through the Summer.
So it's not surprising to see tropical moisture, but admittedly it came a little early this year. We had this happen in 2009 also when we had 10 straight days of rain, breaking some daily rain records, which also resulted in some of the coolest May high temperatures in the low to mid 70s.
Typically May is still part of our 'dry season' when we're either dealing with drought or wildfires. Remember it was just one year ago when we had numerous fires in the region and we needed the rainy season to give us relief. This year the heavy rains came so early we don't have to worry about any drought or fire issues.
So how did we get to this point so quickly? The jet stream that was dropping deep into the south most of March and April gave us a very comfortable Spring with below average temperatures many days. When that jet stream started to retreat northward in May, it left behind an upper Low in the deep south that sat in the Gulf of Mexico for an entire week. The winds between that Low and the Bermuda High Pressure to our east resulted in a southerly wind pulling the tropical moisture northward into our area.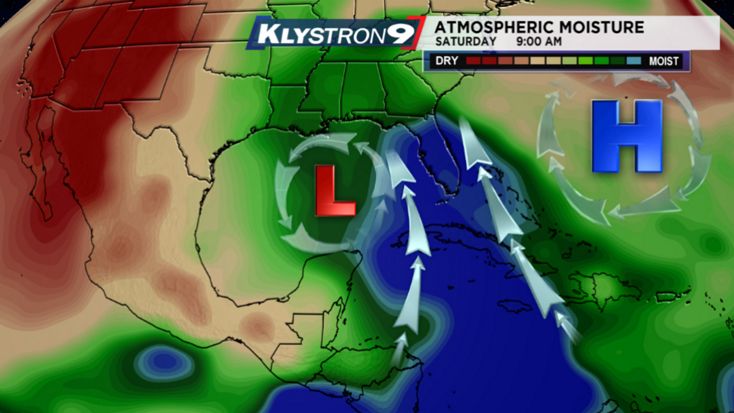 Now that the moisture is here there really isn't much to push it out because the cold fronts have stopped coming this far south and the jet stream has retreated back to the north.
There is a low pressure that will move northward out of the Caribbean this week pulling even more tropical moisture north with it. That low pressure could become a tropical depression or storm, but likely not get very strong due to wind shear and cool Gulf water temperatures this early in the season.
Regardless of whether it becomes a tropical entity, the main point is that another plume of tropical moisture will be pulled into our area. The end result will be the same no matter what...even higher rain chances for the Memorial Day weekend.
So get ready for some heavy downpours ahead and there might even be a day or two that is a washout similar to what we had this past Sunday.