We have heard a great deal lately about the anniversary of the 1921 Tampa Bay Hurricane, which was the last major hurricane to hit Tampa Bay as a Category 3 in late October 1921.
However, it is important to remember, many hurricanes have hit our other counties since 1921, and some have been significant. There have also been many close calls!
I won't mention the hurricanes of 2004 (Charley, Frances and Jeanne) since we are familiar with their tracks and impacts. But here are some other hurricanes since 1921 that you may not know about.
This was the first year hurricanes were named. Two major hurricanes hit the state this year. Easy hit the coast of Citrus/Hernando Counties then King hit Miami directly later in the season.
Although Easy officially hit north of Tampa Bay, it passed very close to the coast of Pinellas, and the eyewall might have come ashore, touching the coast of Northern Pinellas. Damage with the waves, wind and rainfall was extensive. Easy did several loops and stalled, producing extreme rainfall of 38.70 inches in Yankeetown in 24 hours!
The storm surge rose to 6.5 feet in Tampa Bay, the highest other than the 1921 hurricane. Cedar Key had hurricane-force winds for 9 ½ hours and was in the eye for two hours. With the population boom since 1950, a repeat of a slow-moving storm like Easy would be a gigantic catastrophe today.
This hurricane killed 300 people as it crossed Cuba, coming from the warm waters of the Caribbean like most October hurricanes. It strengthened again and made landfall at Sarasota (winds measured at 105 mph) as a Category 3. This hurricane does not officially count as a Tampa Bay hurricane hit.
However, it did substantial damage in Manatee and Sarasota Counties then moved northward into eastern Hillsborough and western Polk Counties as it weakened.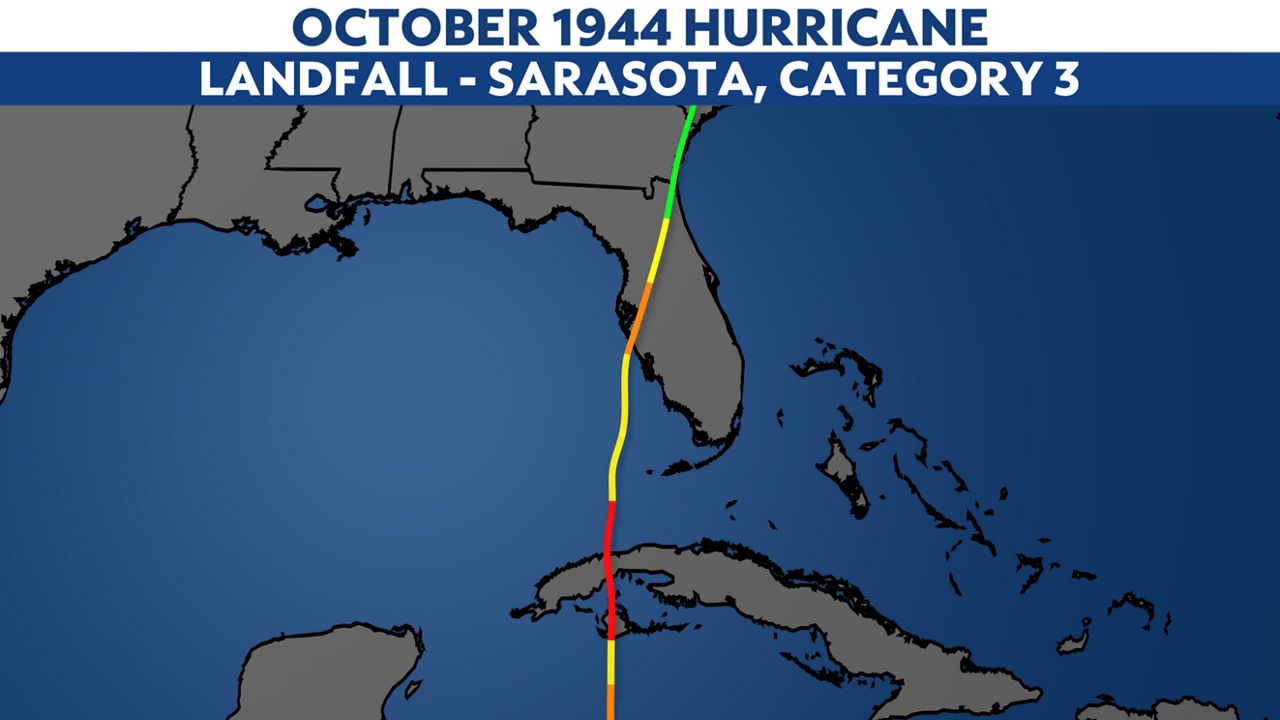 Two years after the 1944 hurricane, another hurricane hit the coast of Manatee/Sarasota counties late in the season. This time landfall was at Bradenton Beach with 85 mph winds. After landfall, the weakening storm became a tropical storm and moved into Pinellas county, then Pasco.
So all of the Tampa Bay areas were impacted by a Category 1 hurricane. Again, the population was much smaller than today, so a storm like this would have much bigger impacts than in 1946.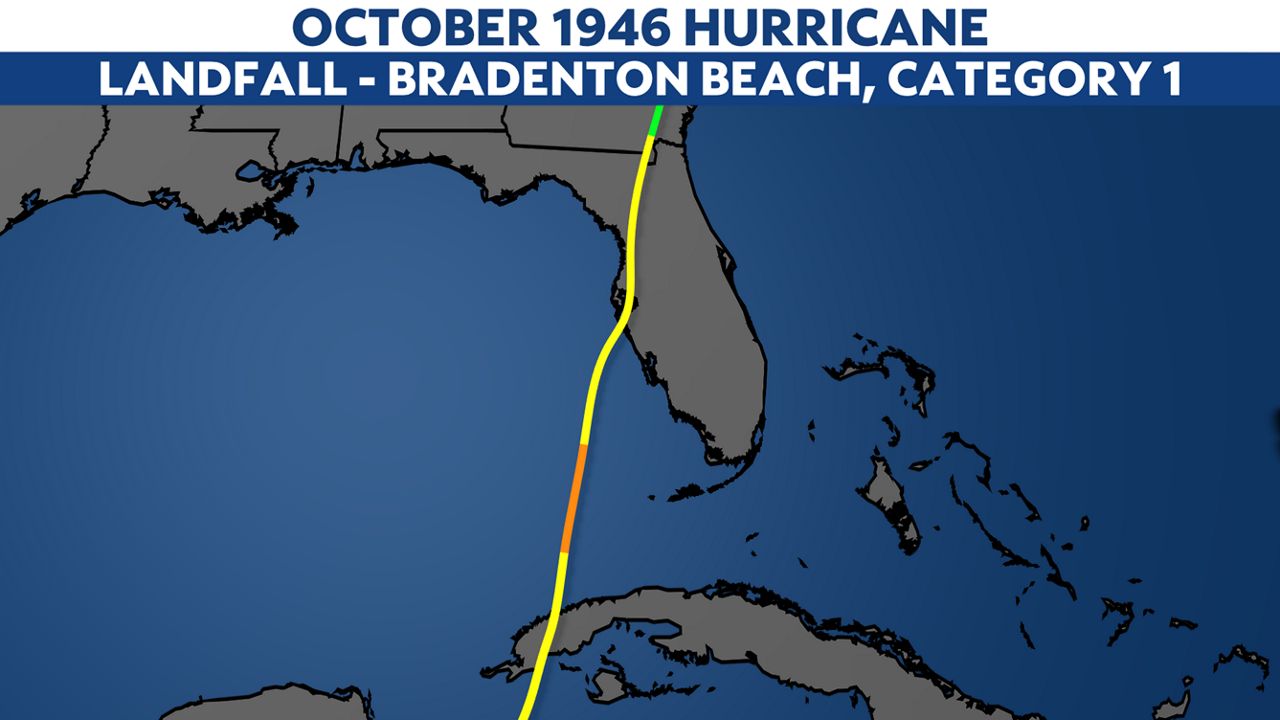 Similar to Irma in 2017, Donna was a classic early-September Cape Verde hurricane. The large size produced high winds throughout the state. Donna first made landfall in the middle Keys and then made a second landfall near Naples through Polk County.
Hurricane Donna continued up the East Coast producing hurricane-force winds all of the way to Maine. In the Keys, there was near-total devastation between Marathon and Tavernier. The worst impacts in our area were from wind over Polk County, doing tremendous damage to agriculture.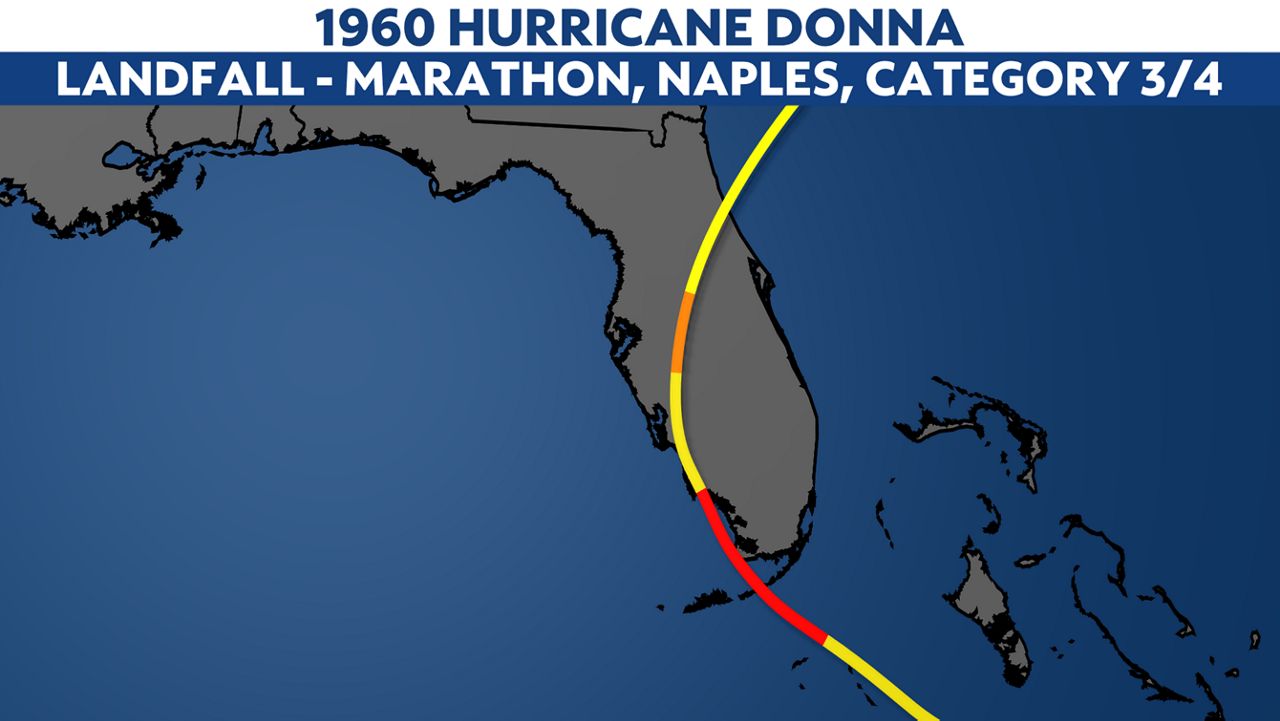 Early radar image from the Miami radar showed a well-organized and powerful Donna as it moved into the Keys.
Hurricane Gladys struck 18 years after Hurricane Easy. It was a weaker hurricane when it made landfall in Citrus county. Gladys was another October hurricane that formed in the Caribbean and moved over to Cuba.
Coming ashore along the Nature Coast, it produced a 6.5-foot storm surge to the south of the landfall point at Homosassa. Winds gusted to 100 mph from Clearwater to Bayport, and there were reports of many power outages. Gladys moved up the East Coast and eventually produced beneficial rains into Canada.
This hurricane is famous for its intensity and damage in the mid/upper Florida Keys. It is still the most powerful hurricane to hit the United States, with a pressure of 892 mb and 185 mph winds.
A surge of 18 to 20 feet destroyed the town of Islamorada! A section of the Florida East Coast Railway from Miami to Key West was wiped out and never rebuilt (now the Overseas Highway).
259 WWI veterans will be killed in a work camp by this rapidly developing, small but powerful hurricane.
The size and intensity were similar to Hurricane Charley in 2004 when it hit Punta Gorda.
There isn't much written about the later path up the Florida West Coast but this was another very close call for Tampa Bay as the weakening hurricane stayed just offshore.