Has the thought crossed your mind that this rainy season has been unusually wet? If so, you are not wrong. Some areas have already received an entire season's worth of rain.
Rivers and retention ponds have been high, many pools had to be drained and plenty of yards have become muddy.
Our rainy season got off to an aggressive start. An onshore wind pattern established itself, leading to days of continuous showers and thunderstorms coming in from the Gulf of Mexico. Rainfall totals added up quickly in early June.
The rain was very welcome at the start of the month, especially coming out of May when only 0.16 inches of rain fell in Tampa.
June through September is the wettest time of year for Tampa. This is when Tampa Bay receives most of its annual rainfall, mainly from thunderstorms and tropical cyclones. The start of the rainy season is obvious in most years.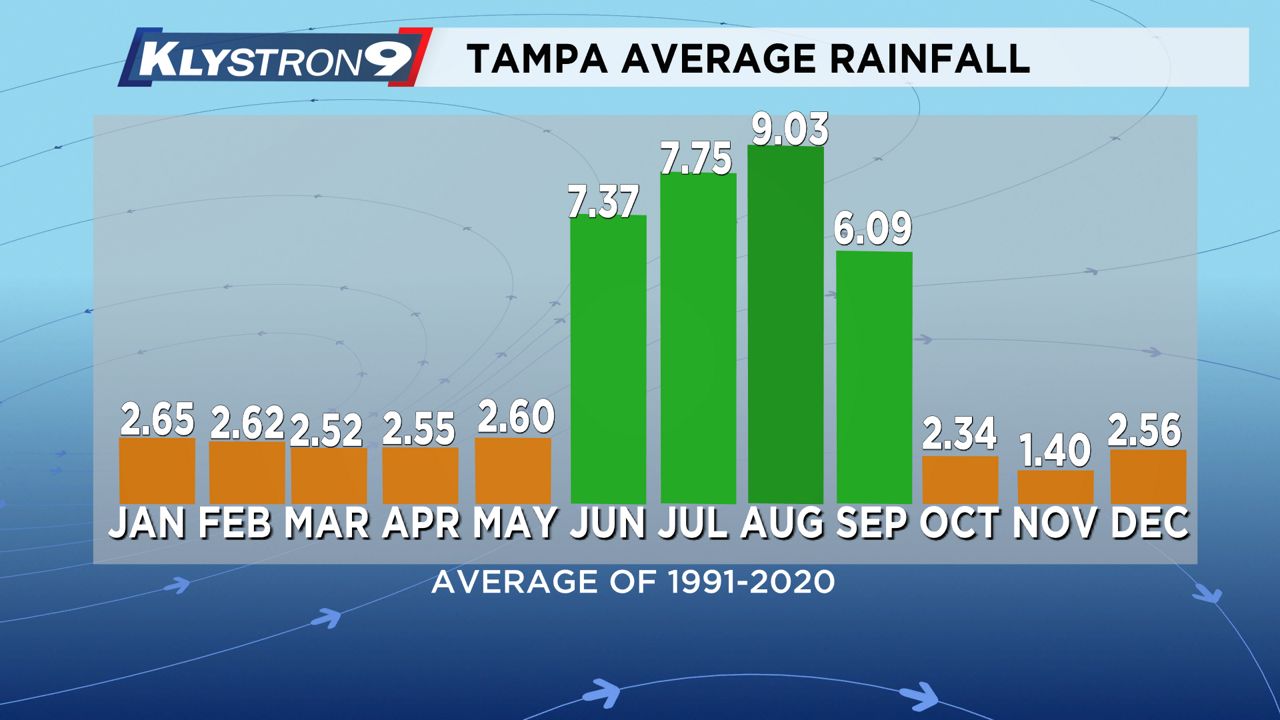 Much of Tampa Bay received anywhere from 10 to 15 inches of rain in June. Tampa measured 12.60 inches in June, which is especially wet compared to the average of 7.37 inches.
By the time July rolled around, eyes were on Tropical Storm Elsa. It was moving up Florida's west coast, throwing lots of rain in our direction. Some areas received impressive numbers from Elsa, especially the Nature Coast and parts of Manatee County, where up to eight inches of rain fell.
July was another soaker, especially for the Nature Coast. Inverness received more than twice its usual rainfall last month with 18.14 inches. This is impressive, especially compared to the monthly average rainfall of 7.80 inches.
Our soil was saturated by the time August came around. Flooding can occur more often because the water can't drain as easily.
A front stalled north of the area to the start of the month and an onshore wind established over our area for a few days. This led to widespread heavy rain, which added up to an additional 10 to 15 inches of rain over the Nature Coast.
We are still about two months away before the rainy season comes to an end. With how wet it has been so far, it is no surprise that some areas already received an entire season's worth of rain already.
Inverness is one of those towns that has done that. From June 1 through August 16, Inverness received 41.30 inches of rain. The average rainfall over this same span of time is 19.16 inches.
Tampa averages 19.16 inches of rain by this point in the rainy season. So far, Tampa has received 26.42 inches of rain.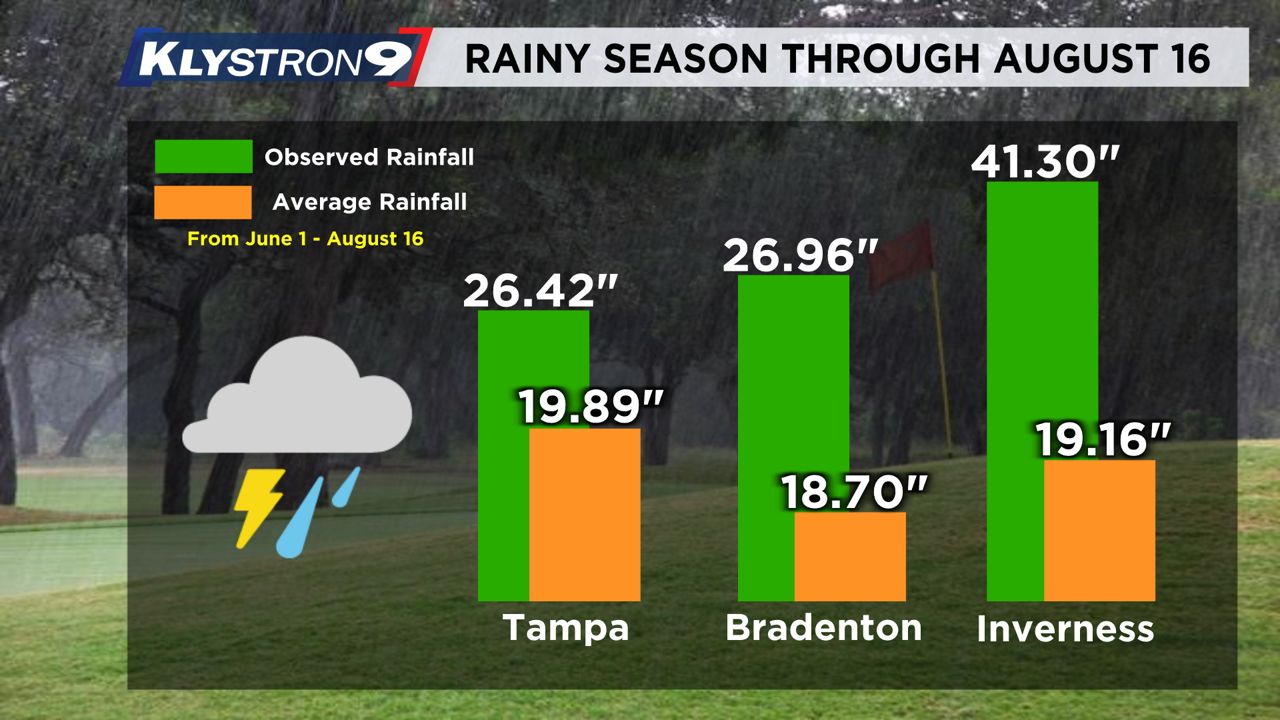 Lakeland, on the other hand, has been missing out on many of these rain events. At this point in the rainy season, Lakeland is running slightly behind.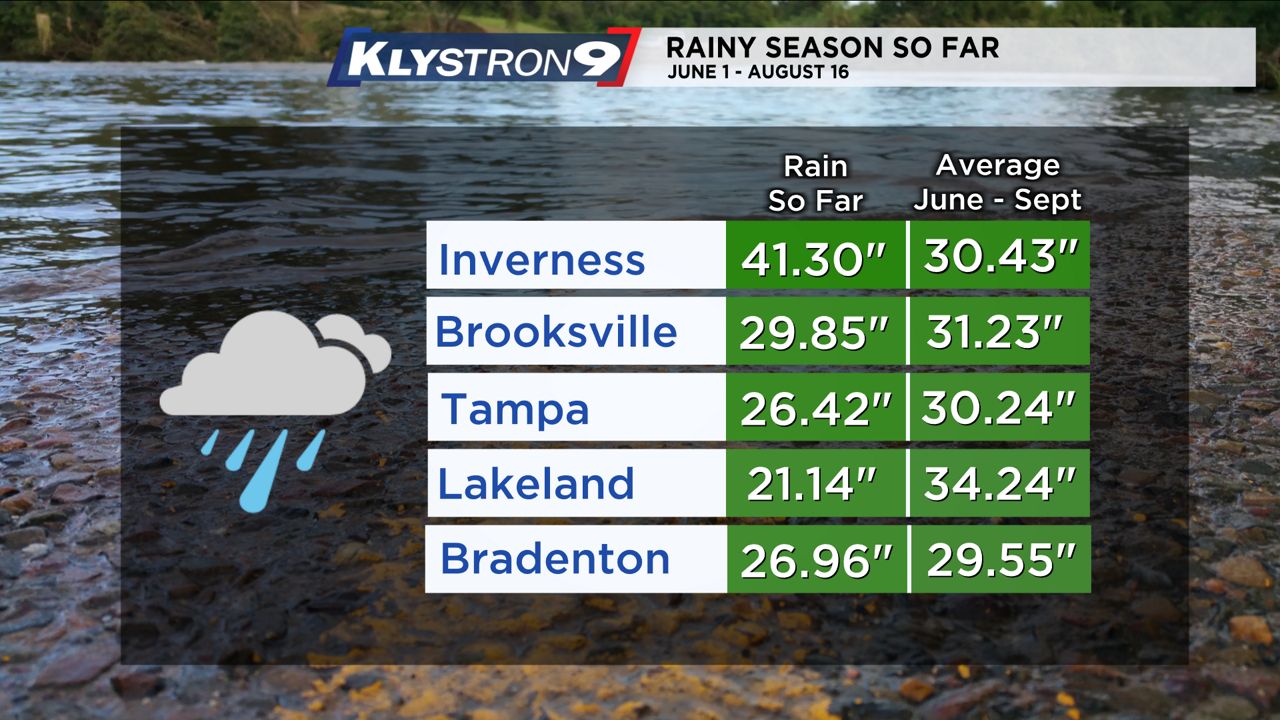 Lakeland receives about 34 inches of rain over the four-month span and the city has measured about 21 inches of rain so far.
August is generally the wettest month of the year for Tampa Bay. September can be a soaker, too, but once October rolls around, our rain chances drop off a cliff and very little rain tends to fall by the time November rolls around.
In fact, November is generally the driest month of the year in Tampa Bay.