Just like Colorado State's forecast from early April, the National Oceanic and Atmospheric Administration (NOAA) is calling for another above-normal number of storms this hurricane season.
NOAA meteorologists expect 14 to 21 named storms for the 2022 Atlantic hurricane season. They predict six to 10 of those will become hurricanes, including three to six major hurricanes, which are a Category 3 or higher on the Saffir-Simpson Hurricane Wind Scale.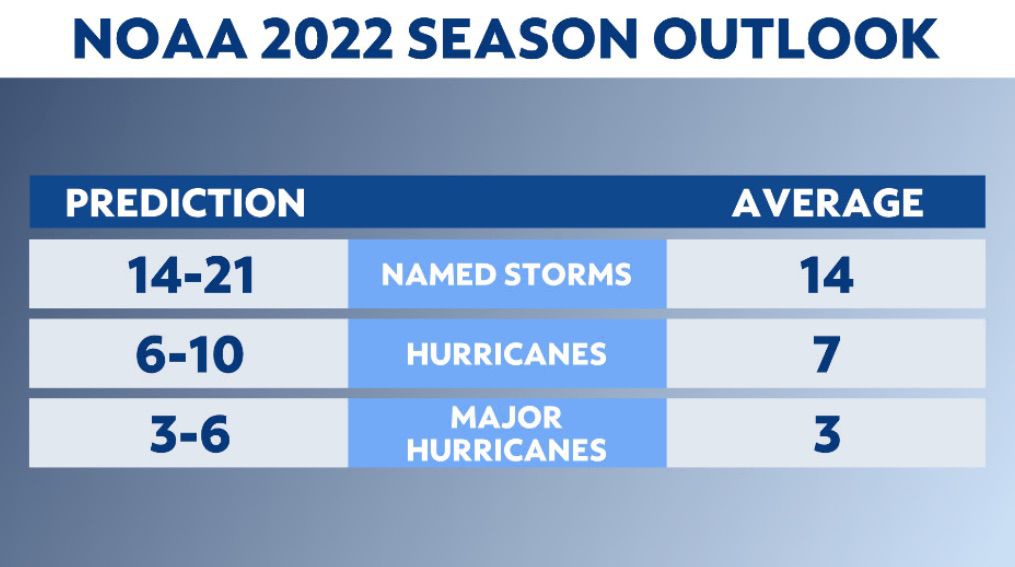 A change from earlier in the spring is the expectation that La Niña will continue into the hurricane season. This ocean-atmosphere pattern favors tropical development in the Atlantic. Sea surface temperatures in the Atlantic are also warmer than average, and NOAA says an enhanced west African monsoon would support more tropical waves that can eventually become tropical storms or hurricanes.
Predictions of the season's activity don't necessarily mean anything about landfall or other coastal impacts. Individual storms make a difference in any particular place, regardless of how active a season is. Coastal residents should do what they can to be prepared every year.
Colorado State University's first outlook of the year, issued in early April, calls for 19 named storms, nine hurricanes, and four major hurricanes. CSU will release its next seasonal forecast on June 2.
Last year's Atlantic hurricane season ended with 21 named storms, although nine of them were so-called "shorties," each lasting two days or less.