A Pirate Hotel in the Tampa Bay area?
Makes sense.
We have our lore - the pirate Jose Gaspar coming to these shores to maraud?
Not likely y'all, but to the Tampa Bay Buccaneers or the pirates of the Ye Mystic Krewe Of Gasparilla — it's totes the case y'all!
In June of 2020, after a few months of pandemic-related delays, Legoland Florida opened their pirate hotel.
First and foremost, you should know that there is a Lego monkey and Lego parrot lookout in all 150 rooms.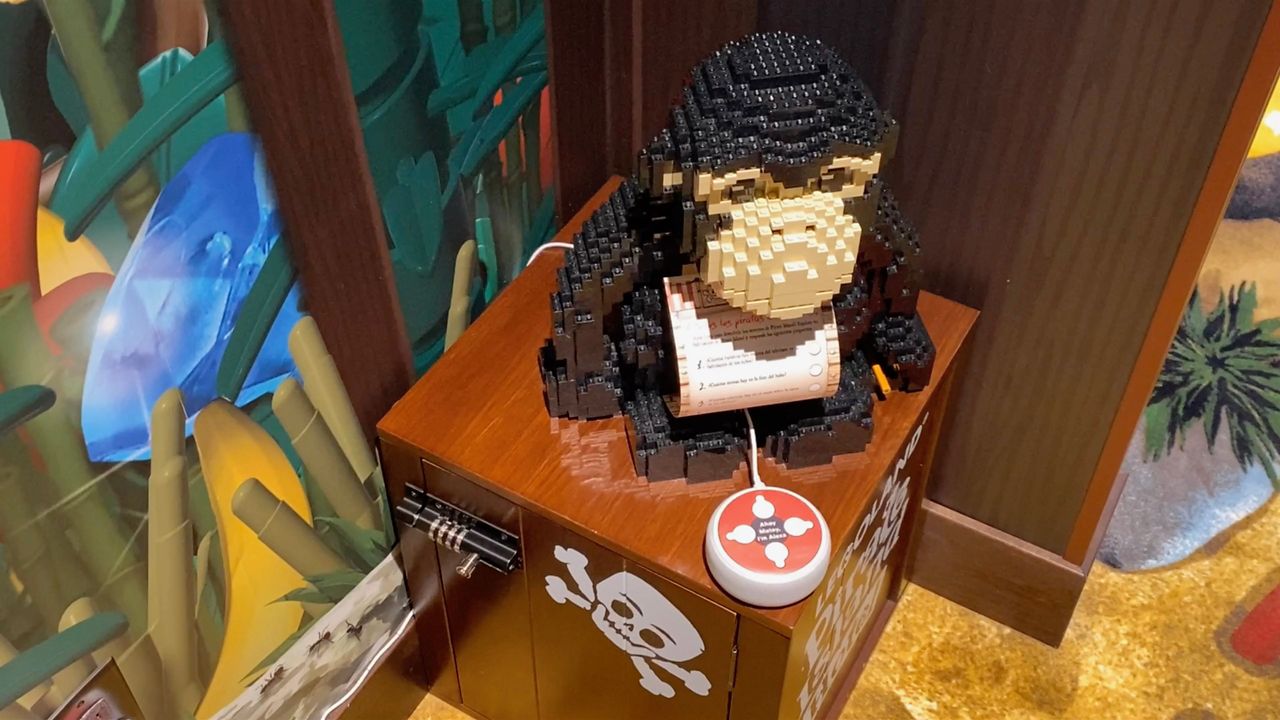 PHOTO: Bobby Collins/Spectrum News
So you are safe from other invading pirate hordes.
Legoland executive Kevin Carr oversees the hotel and gave us a tour that starts outside. And befitting of any resort hotel, the fun stuff comes right off the top.
"As soon as you come up around the corner, you see a pirate ship that's sunken into the ground," explained Carr, standing in the middle of it all.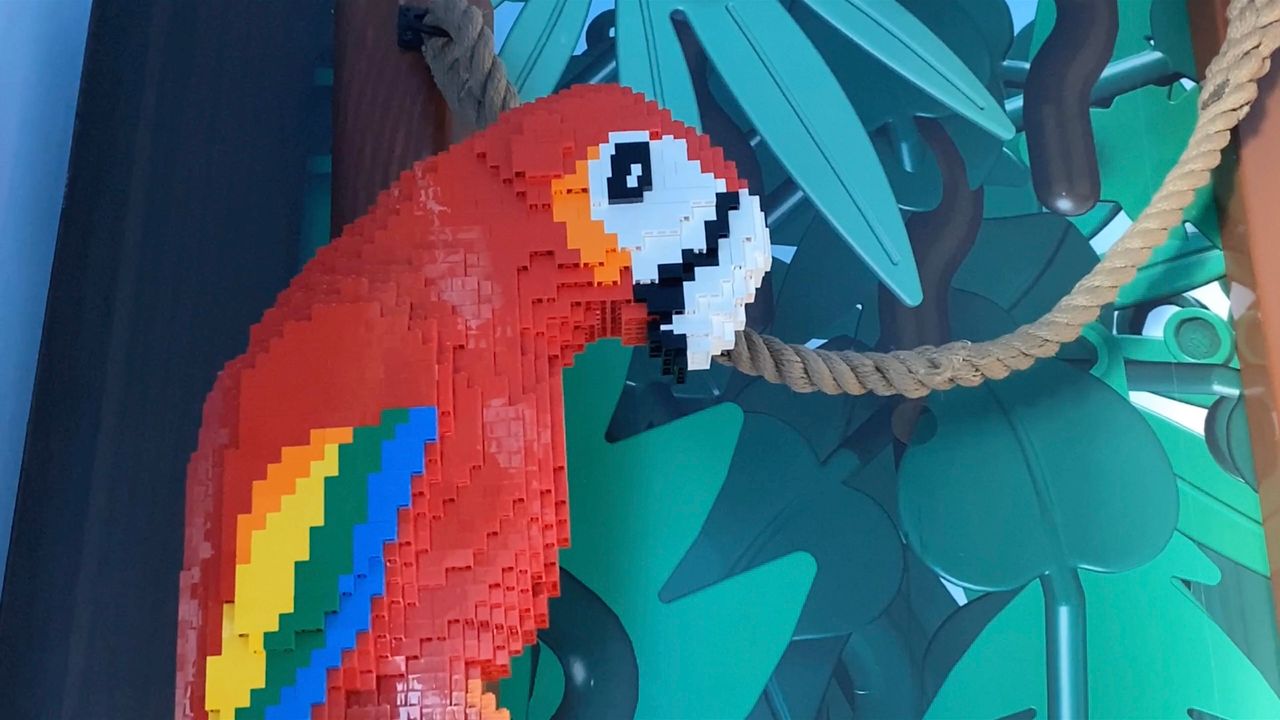 PHOTO: Bobby Collins/Spectrum News
And after walking into the original Legoland Hotel – the two hotels share a check-in desk—you move into a pirate's lair.
First stop off the elevators with the brick park's Kevin Carr -- a pirate room.
There is a massive treasure map on the wall, with similar theming throughout.
"The children's area is separate, so they have their own escape from the adults.
They have their own TV, Lego play and a treasure chest the have to solve clues for."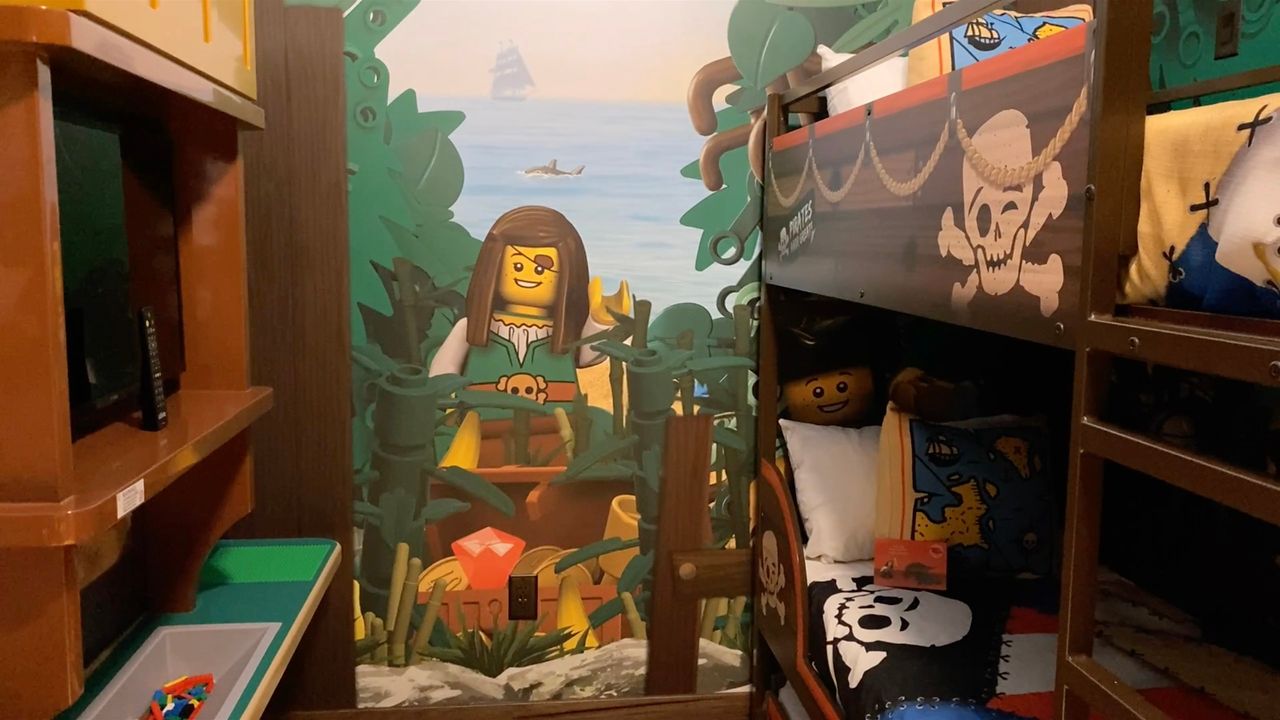 PHOTO: Bobby Collins/Spectrum News
This is the realm Carr helps to run - many leagues across the sea from his English friends and family in the port of Hull, in Yorkshire County, on the northeastern coast England.
"They don't believe I am here - because most of my buddies are still in my hometown," said Carr, laughing. "My best mate, my family, they've not moved once."
Carr's works in Legoland's parent company, Merlin Entertainment, landed him here.
Here in the state and also here in the pirate mess hall, where they offer family-style meals.
"So we bring the big platters to your table and everybody gets to share so it's kind of a buffet at your table," said Carr.
And finally if your little salty seadogs mutiny here's how they handle it—in Lego jail—not far from the mess hall.
"This is the fun jail not the serious jail," said Carr.
The room is complete with an entrance grown-ups will have to duck through, bar, Legos, a crystal game and a mystery man stuck in a box trying to get your attention.