PASCO COUNTY, Fla. — The Florida Department of Agriculture and Consumer Services is cracking down on the eradication of the giant African land snails that have recently been found in Pasco County.
---
What You Need To Know
Experts say the large snails could be devastating to Florida agriculture and natural areas


Florida has twice recently dealt with giant African land snails



---
The snail is an invasive pest to Florida. Not only do they eat plants and feed on the stucco of homes for calcium, but they can carry rat lungworm, a parasite that causes meningitis in humans and animals.
A large concentration of the snails was found along Massachusetts Avenue in New Port Richey.
Officials at a news conference Thursday said the number one thing if you see one of the snails is don't touch it or go near it. Instead, call the Florida Department of Agriculture's Division of Plant Industry.
Katherine Smith and her family live in one of the areas in New Port Richey where the giant African land snails were found.
"I have a 5-year-old and a 9-year-old, they love playing in the dirt, they love doing gardening and stuff like that," Smith said.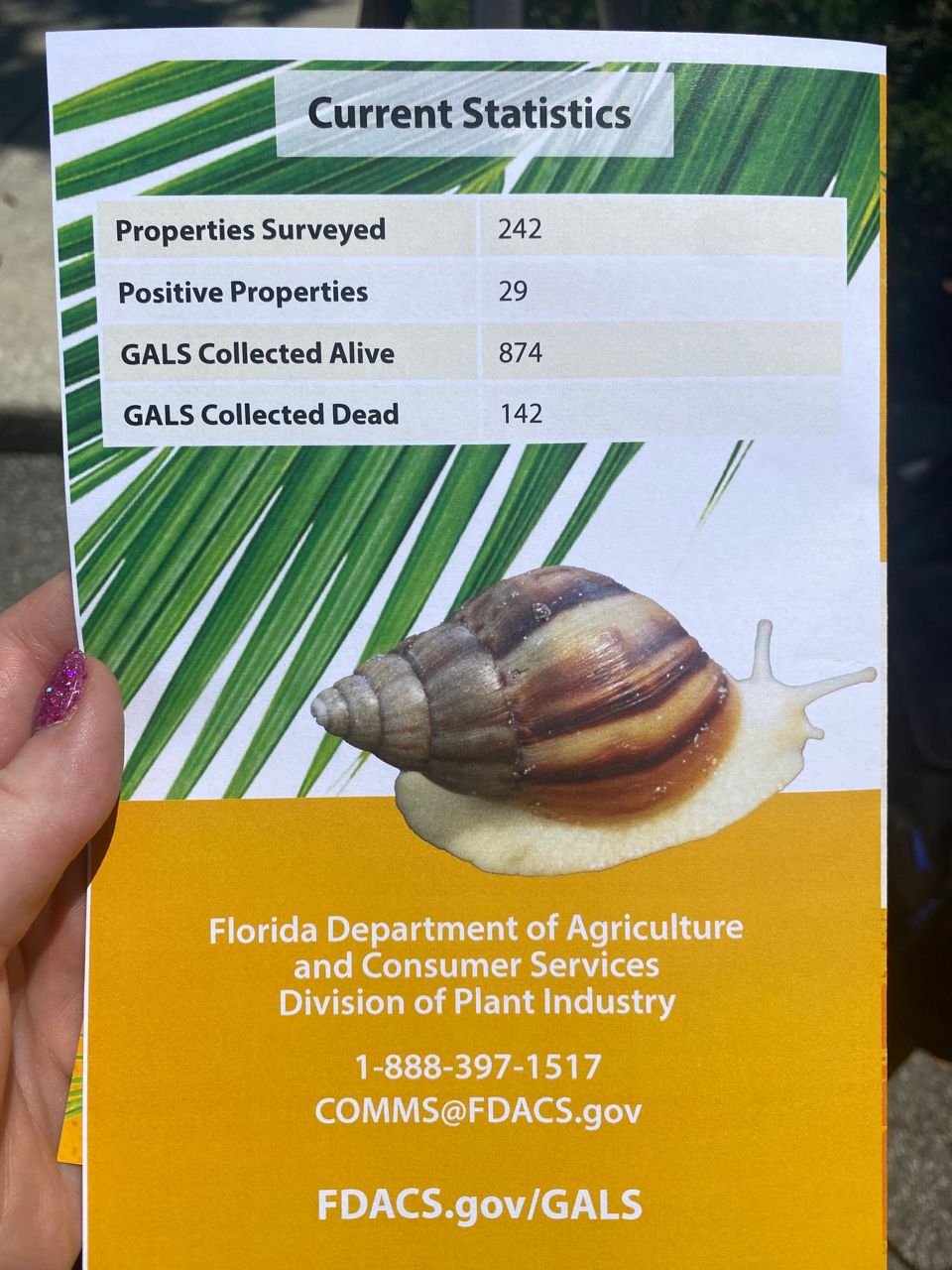 Officials handed out these statistics at Thursday's news conference.
She hasn't seen any of the snails on her property, but she's not taking any chances, especially since her two younger kids can't get shots for meningitis yet and they've got family pets.
The snails have a light cream colored body with a brown shell and are common in the pet trade in Europe. They are illegal to import or have in the U.S. without a permit.
"So far today we have collected over 1,000 snails in our core area, with 29 properties being positive," said Greg Hodges, an FDACS assistant director. "We have 30 personnel currently assigned to the program."
Crews have been out searching for the snails and treating property within the cores areas.
Detection dogs help locate the snails so they can be removed and tested.
Officials said that so far, none of the snails carries rat lungworm.
"The fact that we picked up 1,000, they've been there for a little while," Hodges said. "I think the biggest one we've picked up is 4.5 inches, so it's a pretty good sized snail. So at least a year, year and a half I would wager (for eradication)."
If you live in one of the quarantine areas (see map below), you're asked to not remove yard waste, debris, or plants.
This is the third time these snails have been introduced into Florida, officials said.
The first time was in the late 1960s, and their eradication took about seven years. The second time was in 2010, and the eradication program then took 10 years.
Agriculture Commissioner Nikki Fried attended Thursday's news conference.
"The process of eradication has begun, just as the commissioner indicated here," said Greg Hodges, an FDACS assistant director.
"We will be successful, but it will take some time. Successful eradication can be declared after two years after the last detection of a live snail, and after we have completed the appropriate controls and methods to insure we have eradicated the population."